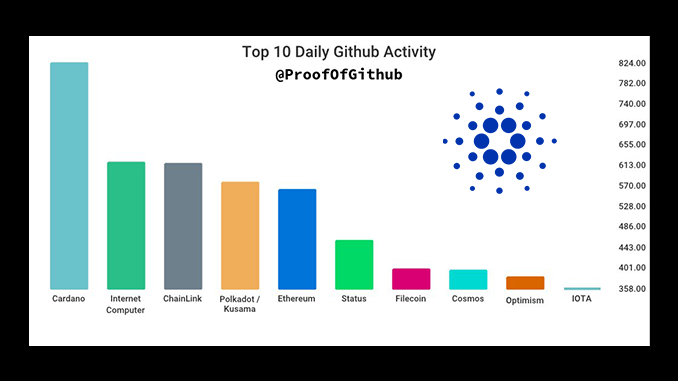 The price development of Cardano (ADA) is disappointing for most investors. They may draw hope from the fact that developers devote more time to Cardano than to most competing ecosystems.
One approach to assessing future opportunities for cryptocurrencies is to tally how active developers are in an ecosystem. Santiment's crypto analysts regularly provide numbers on this by recording what developers post there about their projects on Github. According to Santiment's latest monthly report, Polkadot (DOT) currently occupies the top spot in terms of developer activity, closely followed by its offshoot Kusama (KSM). According to Santiment, Cardano (ADA) is in third place. On some days, Cardano even outperforms the competition, notes ProofofGitHub on Twitter.
But is the equation "active developers = chances of price gains" really that simple? In Bitcoin (BTC), for example, there is hardly any developer activity, and even highly successful altcoins such as Binance Coin (BNB) or Polygon (MATIC) do not even appear in Santiment's top 10. This can have different reasons, from not using Github to a development stage where there is currently little work. On the other hand, the number of permanent developers at Cardano also influences the quantity and quality of activities documented on Github.
To be fair, Cardano can indeed point to some noticeable progress in development work in recent weeks, the Valentine upgrade from mid-February as well as the launch of the stablecoin DJED. According to data from DeFiLlama, these have noticeably revived the DeFi division under ADA, albeit at a level that continues to leave Cardano in an outsider role when it comes to decentralized finance.
Conclusion: ADA price curve bobs along – development work bears little fruit
Cardano founder Charles Hoskinson is repeatedly reminded by critics that he promised a thriving ecosystem with thousands of use cases as early as 2020 as a result of progress in development work. However, Hoskinson's grandiose predictions have not materialized and ADA is currently trading around $0.36, some 89 percent below its September 2021 all-time high of $3.10. Thus, the situation at Cardano remains disappointing from an investor's perspective and they must come to terms with basically only being able to deposit their ADA for staking in down times due to the lack of meaningful other use cases.