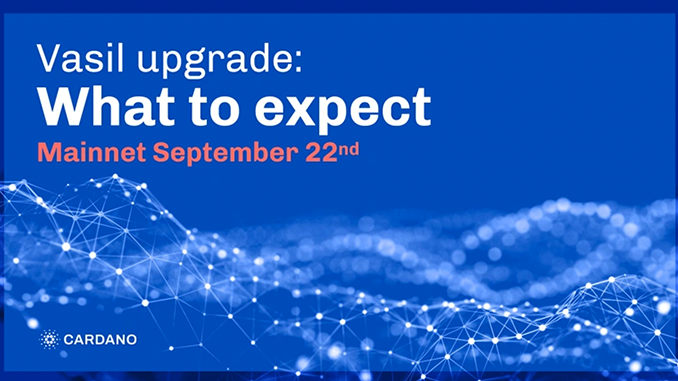 Cardano (ADA) is launching the Vasil upgrade this Thursday evening. Here we explain how Vasil is supposed to improve the ecosystem of Cardano and when the effects can be seen.
After several postponements, Cardano (ADA) is set to launch Upgrade Vasil this Thursday (September 22) evening. The crypto company behind Cardano, Input Output, confirmed via Twitter that the specified conditions for the launch of Vasil have been met. The only open question here recently was whether major crypto exchanges were prepared for ADA with Vasil. According to Input Output, at least 39 crypto exchanges have now given the green light and together represent almost 88 percent of ADA's liquidity. The requirement was for at least 80 percent of liquidity and 25 crypto exchanges.
In an infographic on Vasil, Input Output reminds users that full functionality goes into effect on Sept. 27. In between is a phase called "PreProduction." With Vasil, Cardano experiences improvements in network capacity on the one hand, according to the development team. This is to be expressed in more speed and more transactions processed per block. This is achieved by smaller data packets per transaction and a partial outsourcing of information for more complex processes. This is where Vasil is expected to make a big technological step forward for the Plutus programming language for smart contracts used by Cardano.
Plutus in version 2, for example, will make it possible to insert external information into Cardano smart contracts. This is important, for example, in the DeFi division, where price values of foreign cryptocurrencies play a role in deals and are obtained, for example, from services such as Chainlink (LNK). With Vasil, "more sophisticated" smart contracts for ADA can generally be realized via Plutus in the future, Input Output writes. One example is the handling of deposited collateral for credit transactions, which may now be regulated in detail.
In all, Input Output lists about a dozen technological improvements for Cardano through Vasil. Now hopes are pinned on these actually expressing themselves in new DApps. By Q4 2022, Input Output expects this expansion of the ecosystem to be noticeable. Cardano founder Charles Hoskinson had also recently radiated optimism for ADA with Vasil.
Conclusion: Cardano with countdown for Vasil – will ADA recover?
In a nervous market environment, ADA has been unable to set its own price trends since the spring and has lost ground in market cap to competitors like Ripple (XRP). Analysts see a lack of use cases for ADA as the reason for Cardano's unsatisfactory performance. In the DeFi division, the capital deposited by ADA has shrunk to less than 80 million US dollars, according to DeFiLlama, a disappointing figure compared to Cardano's market capitalization of a good 15 billion US dollars. The coming months must now show whether Upgrade Vasil will create new and competitive applications for Cardano. Meanwhile, the next upgrade for ADA, Hydra, is no longer expected in 2022, but is likely to be delayed to 2023.
---