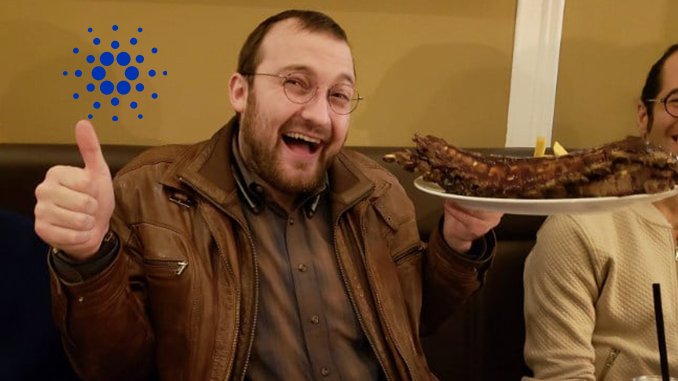 Cardano (ADA) always advertises that it follows strictly scientific criteria in its development. Now critical questions have arisen about founder Charles Hoskinson's academic career.
Charles Hoskinson, as the founder of Cardano (ADA), has a justified reputation for being pompous in crypto discussions. In Germany, for example, IOTA in particular remembers how Hoskinson attacked the project a year ago and accused IOTA of misrepresentation on the topic of "freedom from fees". Now, however, this same Charles Hoskinson himself comes to the embarrassment of having to explain whether he has not brightened up his resume. The renowned crypto journalist Laura Shin recently published a book that made headlines because of revelations about the DAO hack. An attentive reader, however, focused on the person Charles Hoskinson while reading it and thus started a sharp controversy on Twitter.
Hi Charles, speaking of fiction, do you want to address the discrepancies between your claims of dropping out of a PhD program and the schools' assertions that you were enrolled as an undergrad? pic.twitter.com/gBULGEa6KK

— Laura Shin (@laurashin) March 6, 2022
For Hoskinson obviously disagreed with Laura Shin's portrayal of his career and accused her of writing fiction. She could compete with sci-fi and fantasy authors, Hoskinson said spitefully – but people should not take her report in book form seriously. Laura Shin, who writes for magazines such as Forbes, did not want to take this lying down. She countered in Hoskinson's direction and publicly asked him to explain discrepancies with his academic background. Hoskinson had repeatedly stated in the past that he had stopped writing a doctoral dissertation for his full-time involvement in the crypto industry. Shin checked with the aforementioned Denver and Colorado universities – and learned that Hoskinson dropped out as an ordinary student and never earned a degree. A doctorate for Hoskinson would thus be a long way off.
This is particularly piquant for Cardano because ADA claims to be the one with a strictly scientific claim in the cryptocurrency competition. Hoskinson likes to point out in the development of Cardano that this approach just takes time, but in return it delivers fully validated results. But how does a former "dawdling student" without a degree like Hoskinson expect to discuss Cardano with professors and other academics on an equal footing? For the moment, at least, Hoskinson has again backed away from the discord with Laura Shin and has not denied her account.
Bottom line: credibility of Cardano suffers under founder Hoskinson.
One might be inclined to dismiss the wrangling over Charles Hoskinson's resume as buffoonery – if it didn't have a backstory and ADA wasn't touted as "science first." But with Cardano's progress disappointingly slow, ADA is rightly measured against what Hoskinson promised. If Cardano's poster boy already lacks sincerity in his resume, how can Hoskinson be trusted in general? Scoffers in this country will remember all the politicians who stumbled over plagiarism in doctoral dissertations or cheating on their CVs. It seems that Hoskinson – who once also co-founded Ethereum (ETH) – could become a liability for Cardano.
---
Best place to buy Bitcoin and Cardano: