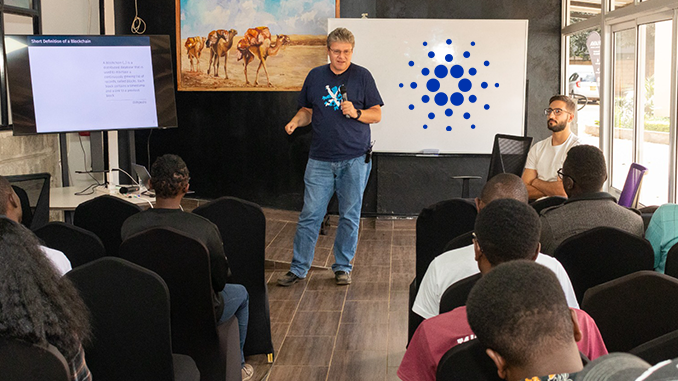 Input Output as the crypto company behind Cardano (ADA) has launched a two-month program in Kenya to introduce locals to smart contract programming.
For Cardano (ADA) founder Charles Hoskinson, Africa has been the continent where he sees huge potential for blockchain solutions for a good two years now. In Ethiopia, a cooperation with the Ministry of Education was launched, in Kenya, Cardano wants to enable microcredits, and in Tanzania, mobile communications are to be innovatively advanced. But all of Cardano's African projects have one thing in common: after they were introduced, little or nothing was heard of them.
Will that change now with blockchain training for Cardano in Nairobi? Input Output as the crypto company behind ADA is at least pinning hopes on this project and promoting it on Twitter (now X). A group of selected participants will learn the basics of programming smart contracts on Cardano there over the next two months, they say. Lars Brünjes, the head of education at Input Output, has been flown in for the purpose. He is already sharing photos of his first lessons in Kenya – the response seems to be restrained.
The local cooperation partner for Input Output's project for Cardano is The Africa Blockchain Center. This, however, cites Algorand (ALGO) as its flagship partner on its web presence. Smart contracts for ADA are designed differently from the typical Ethereum Virtual Machine (EVM) solution due to the Haskell programming language and the Marlowe and Plutus modules. This is another reason why the use of smart contracts on Cardano, which have been possible since September 2021 thanks to the Alonzo update, falls far short of optimistic expectations.
Conclusion: Cardano in Africa – zero number or innovation driver?
Critics of Cardano founder Hoskinson remember his tour of Africa almost two years ago, during which lots of photos were taken with presidents and ministers. It is undisputed that the continent offers great potential for the crypto industry, also because many people there do not have a bank account, but have access to Bitcoin and Co. via smartphone. For example, IOTA, Stellar (XLM), and Ripple (XRP) are already involved in Africa and our infographic clearly shows positive trends for crypto on the continent. Only whether Cardano will play a supporting role there – that has to be questioned based on previous experience.
---