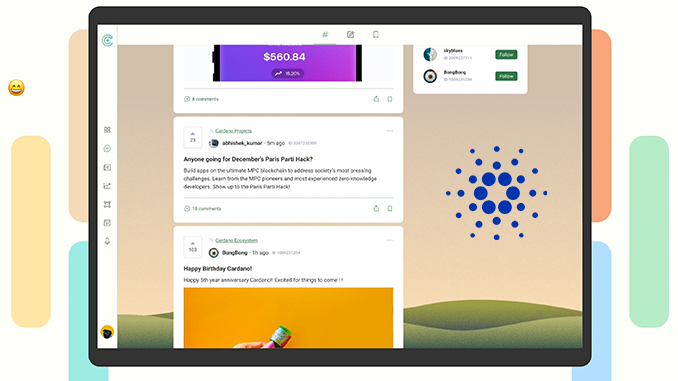 Cardano Spot, a social network that is all about Cardano (ADA), is to be launched soon. The project is initiated by the crypto company Emurgo, which is an official partner of Cardano.
Cardano (ADA) has fallen far short of expectations in the crypto year 2022, even the update Vasil in September could not stop the creeping decline of the price curve. Now the announcement of Cardano Spot is fueling hopes for a turnaround. The project is intended to spawn a social network where users, developers, investors and other people who support ADA can exchange ideas. A web presence for Cardano Spot has already been established here and the waiting list for future community members has been opened.
Cardano Spot is backed by crypto company Emurgo, which says it is an official commercial partner and founding member of Cardano. The social network under construction is Emurgo's first media project and is headed by Sebastian Zilliacus. The latter says Cardano Spot is intended to become the "information bridge" between ADA's ecosystem and the community. Screenshots show a timeline with word posts and links to topics related to Cardano and the possibility to comment and like them. Emurgo points to more than 4 million ADA wallets and just over 3,200 staking pools, which it says is evidence of how the ecosystem has grown and how many parties might be interested in Cardano Spot.
However, previous attempts to establish social networks specifically focused on the crypto industry have all failed. Pulse at Bitfinex has been discontinued, as has Voice at EOS. Investors and other market participants prefer to exchange ideas on Twitter, Reddit, Github or Telegram groups. Why discussions around ADA should shift to Cardano Spot is vaguely justified by Emurgo as "quality content" from "reliable sources." Concepts of how Cardano Spot could be monetized are not mentioned.
Conclusion: Social network Cardano Spot with chances of success?
Of course, one should not write off an initiative like Cardano Spot to death even before its launch. But anyone familiar with the ADA ecosystem also knows that there is plenty of information online about active and planned projects. Cardano Spot, as a kind of official and monothematic social network on ADA, must also reckon with coming under suspicion of censorship if critical voices are moderated away. What Cardano probably still really needs are money-making use cases. Here, the stablecoin DJED announced for January could provide much-needed impetus.