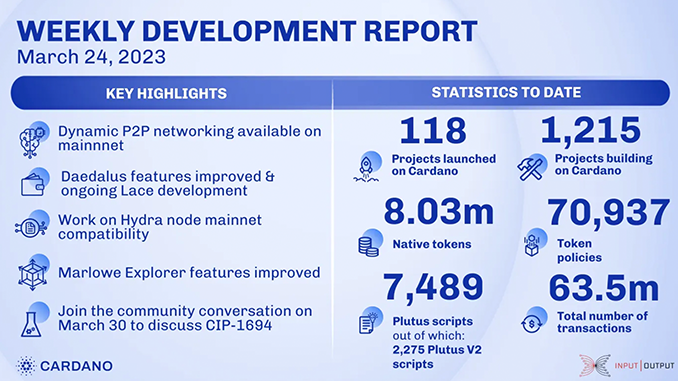 Cardano's (ADA) price curve is disappointing and even progress in the development department has not been able to reverse the trend so far. What's new?
Cardano is a worrier for many investors; with current prices around $0.35 per ADA, the all-time high from September 2021 is nearly 90 percent away. When looking for good news on ADA, one quickly comes across status reports from Input Output, the company behind Cardano. In the latest weekly report, Input Output is optimistic as usual, and the development department is working at full speed. But can new opportunities for Cardano (ADA) really be derived from this?
Anyone who regularly deals with Cardano will be skeptical about the reported progress. For one thing, the Hydra update is still not nearly ready for a launch on the mainnet, although this was actually announced for 2022. Hydra is a central part of the Basho phase in Cardano's roadmap, where the scalability of the ecosystem around ADA is the main goal. Previous updates like Alonzo and Vasil in the Basho phase failed to meet expectations of attracting massive new use cases to Cardano.
And so while the wait for the Hydra update for ADA continues to lengthen, the other major goal, the Voltaire phase, is almost being forgotten. This is to hand Cardano over to self-governance and Input Output will lose power. At least for the moment, however, little noticeable is happening in the implementation of this plan. Critics have been asking for a long time whether ADA is not in fact to be classified as "vaporware", because schedules and technological promises are not being kept in rows.
Conclusion: Will Cardano become a billion-dollar grave?
When Cardano was sailing on a wave of success in terms of price in 2021, its (theoretical) market capitalization rose to over $90 billion. Today, ADA is still listed in the top ten most important cryptocurrencies with a market capitalization of just over 12 billion US dollars, but it hardly fulfills the claim of also offering concrete, money-earning use cases in the ecosystem. Founder Charles Hoskinson most recently called out NFTs as a field in which Cardano should prove its technological superiority. But that's where revenues are low for Cardano and where two other ecosystems, Ethereum (ETH) and Solana (SOL), are frontrunners. The review of the crypto year 2022 already allowed the verdict "flop" at ADA and a positive momentum for Cardano is still not visible at the end of Q1 2023.
---