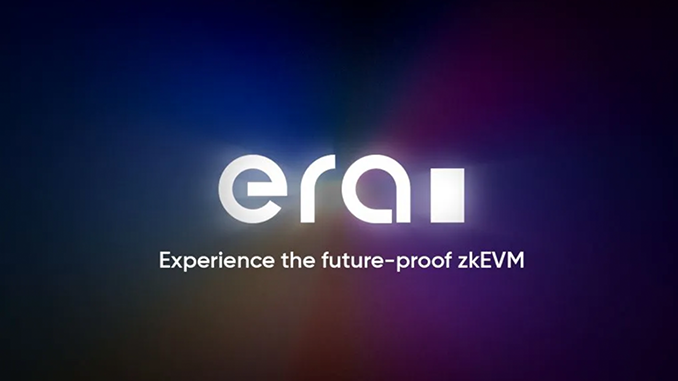 zkSync has taken a major development step. In the Layer 2 solution for Ethereum (ETH), a mainnet alpha with advanced EVM is now open to all users. A separate token from zkSync could follow.
In the extended ecosystem of Ethereum (ETH), the so-called Layer 2 solutions are competing fiercely for technological progress. One approach to this is to extend the Ethereum Virtual Machine (EVM). The EVM has established itself as the standard for organizing smart contracts and is thus also the cornerstone for the bulk of applications in the field of decentralized finance (DeFi). Projects such as Polygon (MATIC) and zkSync want to add an additional feature to EVM called zk (zero knowledge) to make the module work even when smart contract counterparties share limited information and may operate from different blockchains.
In this race to be the first practical implementation of a zkEVM, zkSync now has the edge. Over the weekend, zkSync released its mainnet alpha for a zkEVM and explained the state of play via a blog post. According to this, a testnet for the zkEVM had been in place for a good year and they had raised $3.8 million to hire a total of seven outside companies to perform in-depth security checks. So zkSync is optimistic that its own zkEVM is up to the practical test, but has still planned some security measures as a precaution.
For users of zkSync, the most important restriction is probably that withdrawals are automatically delayed by 24 hours. The background here is: In order to feed crypto funds into zkEVM and zkSync, so-called bridges are needed. However, these have turned out to be a focal target of hackers in 2022 and have caused damages of many millions of US dollars in cases like Ronin Bridge. By intentionally delaying cash outflows, zkSync reserves the option of an emergency brake in case of an attack.
Conclusion: zkSync pioneers a zkEVM – is its own cryptocurrency coming?
All Layer 2 solutions advertise low transaction fees and high speed when using the EVM . These are exactly the drawbacks of Ethereum (ETH) as Layer 1 when it is home to the EVM. Meanwhile, Layer 2 solutions are fine-tuning to become more flexible. The zkEVM approach is also being pursued by Polygon, where a corresponding mainnet beta is scheduled to go live today, Monday. zkSync is already further advanced in this regard, according to its own account, and now their zkEVM must prove itself in practice. At the same time, investors are wondering whether zkSync will also launch its own token on the market, as Arbitrum (ARB) did recently. Such plans have been circulating since the fall of 2022 at the latest, but have not been provided with updates from zkSync lately.
---