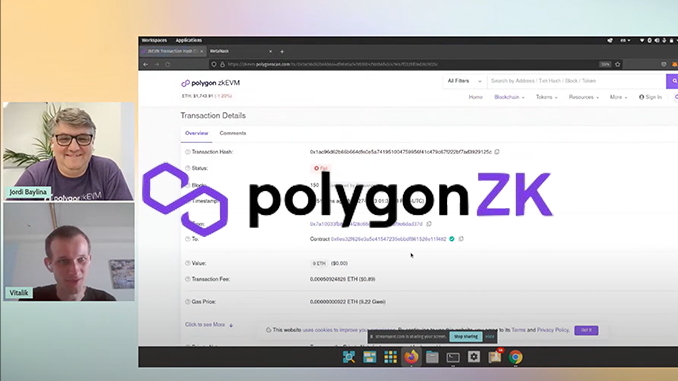 A few days after zkSync, Polygon (MATIC) now also unlocks its zkEVM (zero knowlegde Ethereum Virtual Machine). Vitalik Buterin, inventor of Ethereum (ETH), was allowed to trigger the first transaction.
Polygon (MATIC) celebrated the launch of its zkEVM mainnet beta yesterday with celebrity support: Vitalik Buterin placed the first transaction during a show broadcast live on YouTube. Buterin, as the inventor of Ethereum (ETH), is a respected figure in the crypto scene, but took a decidedly casual approach to the launch of the Polygon zkEVM. Indeed, Buterin set "69,042" as the maximum transaction fee, leaving room for interpretation.
"69" is linked to a sexual practice in the dictionary of underground culture, the slightly shifted "420" could accordingly stand for the legalization of marijuana. In the inserted text for the first transfer in the zkEVM Mainnet Beta polygon, Buterin also wrote: "Millions of constraints for man, unlimited scalability for mankind." With this, he was referring to the concept of a zkEVM, which is not only intended to lift MATIC to a new level in the medium term.
That's because at zkSync, one of Polygon's competitors had already let its zkEVM go live by the weekend. EVM is the abbreviation for Etherum Virtual Machine, a standard module for setting up and processing smart contracts. Behind the suffix "zk" is an extension called "zero knowledge," which makes an EVM more flexible and requires less information from contract participants. With a zkEVM, zkSync and Polygon aim to create new opportunities in lines of business such as Decentralized Finance (DeFi).
Polygon stated in a blog post that its zkEVM still requires a central location ("sequencer") for now. This is also true for zkSync. In this respect, the solutions are not yet completely decentralized, which causes unease in parts of the crypto scene. Polygon is setting up a fund of 1 million US dollars as rewards to attract failed attempts at its zkEVM.
Conclusion: Polygon on course for the future with zkEVM.
MATIC's share price did not react noticeably to the launch of zkEVM, which is set up on its own network and is an option for Polygon users, but not a compulsion. Experts are now eagerly awaiting the practical results of using a zkEVM, as they did with zSync. After all, the concept is considered forward-looking and could become a compelling argument when investors in the Ethereum (ETH) ecosystem and beyond choose which network to conduct their business on.
---