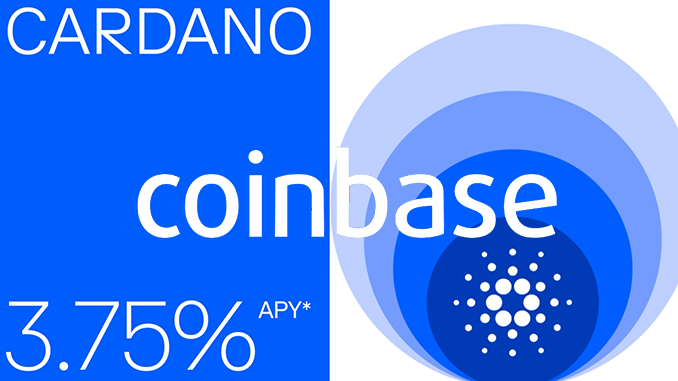 Coinbase is expanding its offering for staking and now supports this method for interest gains on Cardano as well. 3.75 percent annual interest should bring deposited ADA so, minus fees.
Among the well-known and reputable methods to earn passive income with crypto, Staking is a low-risk choice. This is one of the reasons why crypto exchange Coinbase offers staking for some selected tokens, now including Cardano (ADA) in its program. In a service text, Coinbase writes that it expects Cardano Staking to yield 3.75 percent annual interest. These gains in ADA are then distributed to customers minus 25 percent fees, which realistically should amount to an interest rate around 3 percent.
Staking involves depositing tokens of a cryptocurrency that relies on proof-of-stake (PoS) in the protocol with nodes as a demonstration of stable work. In turn, validating transactions on the network is rewarded with Staking Rewards. In theory, individuals can also directly engage in the process, but in reality it is complicated. So Coinbase is now taking over staking on behalf of customers and immediately expanding its range of options for ancillary services.
Staking for Cardano – interest rate comparison can be worthwhile
With three percent real interest, Coinbase is fair for flexible staking with ADA. "Flexible" here means that you can also withdraw your Cardano from the program at any time. You get paid interest on ADA at Coinbase about every five days after the initiation period of 20 days is over. For flexible Cardano staking at Binance, for example, there is currently only 1 percent interest. However, Binance also offers "locked staking", where ADA are deposited for longer periods of time – then the interest rates increase significantly and even reach 11 percent at 90 days, for example. Where you let your qualified coins stake best is a question of strategy and comparing offers pays off.
Conclusion: Staking for ADA, Ethereum, Tezos and Co. at Coinbase
Blockchain data shows that currently a good 73 percent of all ADA is deposited for staking. With Cardano progressing slowly, many investors see Staking as the best way to bridge the wait for technological upgrades in ADA. From our point of view, Staking at Coinbase is a fair offer and recommended for flexible investment strategies. By the way, Coinbase also offers staking for several other popular cryptocurrencies, including Ethereum and Tezos (XTZ), among others.
---