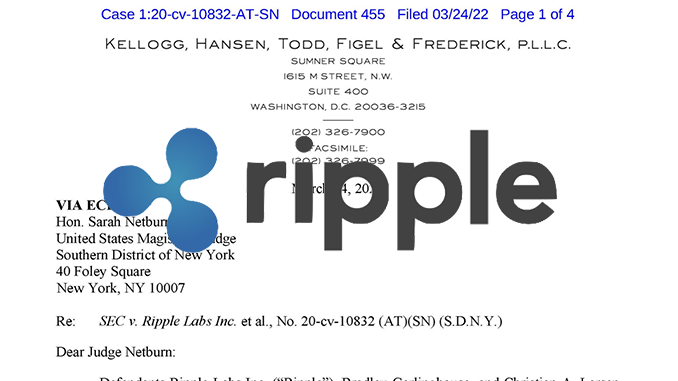 Hopes for an early end in the trial of the U.S. Securities and Exchange Commission SEC against Ripple over XRP have received a damper. The court accepted extensions of time for the SEC, which changes the schedule.
Those who had hoped that the legal proceedings of the U.S. Securities and Exchange Commission (SEC) against Ripple (XRP) would turn into the home stretch after 15 months, must reorient themselves. Most recently, Ripple had tried to put pressure on the timetable and also indirectly accused the SEC of dragging out the process. But the court has now ruled that the SEC will be given more time to evaluate submissions from Ripple and, once again, file new motions if necessary. Lawyer James Filan is watching the proceedings down to the smallest steps and has proven himself an expert. He now points to a second important detail on Twitter in addition to the extensions of time. The judge has now also asked the litigants to agree on a timetable soon as a proposal for how the proceedings will then go live in court to the final phase.
In the discussion on Reddit about the latest developments, people are now doing the math and the prevailing opinion is that realistically a verdict can be expected in three to four months at the earliest. However, under this scenario, the SEC would not exercise the option to file additional evidentiary motions in April. Ripple had proposed starting pleadings on May 22. That date is now off the table. A small glimmer of hope for a streamlined trial has been discovered by trial observer Jeremy Hogan, also an attorney. He points out via Twitter, "Judge recently sets deadlines to run from when documents are received. That means if Ripple's lawyers work quickly, the SEC must also respond quickly.
Bottom line: endless loops on XRP because of Ripple vs. SEC
In terms of content, Ripple had scored impact hits in its duel with the SEC in February and has since tried to bring speed to the proceedings. However, Ripple has now been rebuffed for the time being and it is becoming apparent that the SEC is still intent on gaining time. Whether the SEC will still find conclusive evidence that justifies the classification of XRP as a security is by no means certain. What is becoming painfully clear for XRP investors, however: Without a ruling, Ripple and XRP are treading water in the important North American market and little is likely to change in the coming months.
---
Best place to buy Bitcoin and Ripple (XRP):