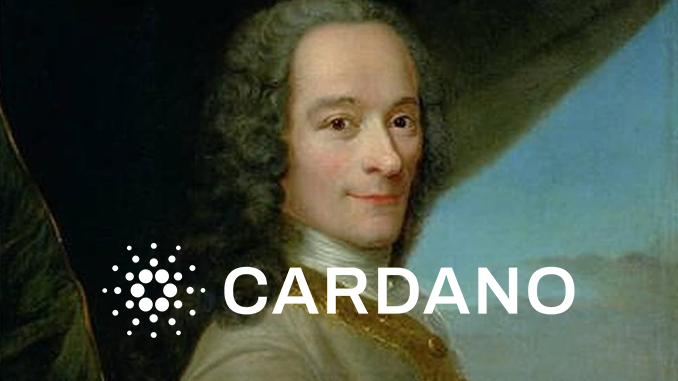 Little is happening at Cardano (ADA) in terms of price at the moment, but in terms of content, a new capital is on the horizon. That's because the start of the Voltaire era, which will see Cardano move into self-governance, is taking shape.
When Cardano (ADA) made its stock market debut in 2017, the crypto company behind the altcoin, Input Output, was also already publishing plans for further development. According to the report, the ultimate goal for Cardano and ADA was Phase Voltaire, which would see the project move into self-governance. Some six years later, Cardano is moving at an ever-increasing pace toward the Voltaire era, which is scheduled to begin with update CIP-1694, named after the French philosopher's birth date.
Input Output has been supporting workshops on CIP-1694 around the world since May, and the Cardano community will still be invited to discussions in July. Input Output clarifies the plan on Twitter with diagrams. CIP-1694 is intended to set in motion a sophisticated voting system for Cardano and ADA. This would then determine for future issues at Cardano in the manner of a Decentralized Autonomous Organization (DAO). In this Cardano DAO, according to the proposal, there would basically be three factions, namely Delegate Representatives (DReps), Constitutional Committee (CC) and Stake Pool Operators (SPOs). Behind the DReps are democratically elected representatives selected by investors with ADA as their ballot. The Constitutional Committee is meant to represent thought leaders at Cardano and the Stake Pool Operators represent technical capacity providers.
These proposals, which also address vote weighting, have the support of Cardano founder Charles Hoskinson, who believes further decentralization to ADA is essential. However, there is no timetable yet from Hoskinson or Input Output for when Update CIP-1694 might be implemented at Cardano.
Conclusion: Cardano hopes for Voltaire and CIP-1694
The price curve of ADA has not yet been able to recover sustainably from the attack of the US stock exchange supervisory authority SEC at the beginning of June and the old, home-made problems (above all: missing use cases) of Cardano continue to accompany the project. With the Voltaire era, investors themselves will take more responsibility for Cardano's continued development when ADA also becomes a governance token. Whether this will reverse the trend in terms of price is another matter. But the discussion about CIP-1694 at least brings Cardano and ADA to the attention of professional portals and social networks.
---