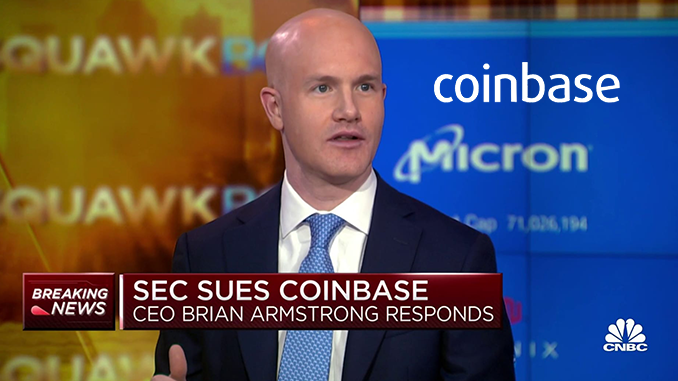 U.S. crypto exchange Coinbase was ordered by the Securities and Exchange Commission (SEC) to drop all cryptocurrencies except Bitcoin (BTC), according to CEO Brian Armstrong. Now they are meeting in court.
The US Securities and Exchange Commission (SEC) sued crypto exchanges Coinbase and Binance in early June, also confirming its tough stance against the industry. At the core of the SEC's strategy is the thesis that the vast majority of cryptocurrencies are so-called "securities" and therefore subject to regulation. How radically the SEC interprets its position has now been explained by Coinbase CEO Brian Armstrong in an interview with the "Financial Times". Even before the formal indictment, there had been talks between the SEC and Coinbase. In the process, representatives of the authorities had delivered the demand that Coinbase must stop trading in all cryptocurrencies except Bitcoin (BTC) in order to avert a lawsuit, Armstrong said.
It is known that SEC chief Gary Gensler advocates regulatory freedom only for Bitcoin as the mother of all cryptocurrencies. Armstrong analyzes that the SEC's demands would have meant the "end of the crypto industry in the US." Therefore, he said, he had no decision option at all but to take the case to court. In the lawsuit against Coinbase, the SEC listed 13 cryptocurrencies whose trading is illegal because they are supposed to be securities. The listed altcoins even include two heavyweights, Cardano (ADA) and Solana (SOL), which are among the ten most capitalized cryptocurrencies in the world. The Cardano and Solana teams are fighting back against the SEC's classification.
In the case against Ripple (XRP), the SEC has recently lost ground and failed to convince the court that trading XRP on secondary markets was illegal. Here, the SEC apparently wants to file an appeal. In the case of Coinbase vs. SEC, the crypto exchange hopes for a speedy trial.
Conclusion: SEC with rigidly negative position towards cryptocurrencies.
The SEC has not denied the Coinbase matter to the Financial Times, but claims there has been no official request to delist cryptocurrencies. We have here a list of the more than 50 altcoins that the SEC is already targeting as "securities." What is clear from the sharp conflicts between the SEC and the crypto industry is that amicable settlements are out of reach and courts are now in demand.
---