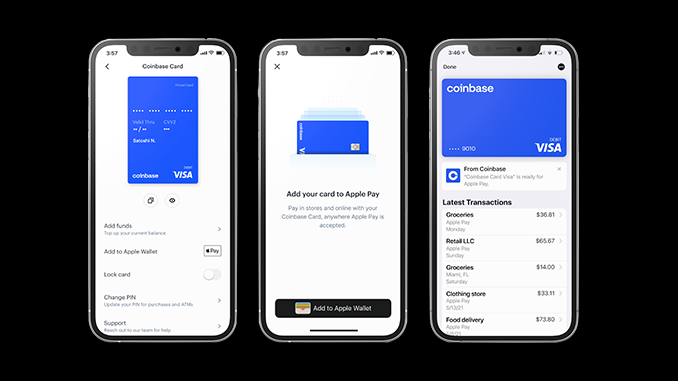 The Coinbase credit card is now compatible with Google Pay and Apple Pay. This is intended to make it more attractive for everyday use. The Coinbase credit card is available in Germany.
The topic of credit cards based on cryptocurrencies is an indicator of how Bitcoin and Co. will be received in everyday life. Because, as for example with the Coinbase credit card, it is connected that liquidity is guaranteed for almost all life situations through credit balances in leading cryptocurrencies. To strengthen this service, Coinbase has now also made its credit card fit to be directly linkable with Google Pay and Apple Pay. In a blog post, Coinbase writes that payments through smartphones are becoming increasingly popular. Combining Apple Pay or Google Pay with the Coinbase credit card opens up this field.
The Coinbase Visa credit card is a so-called debit card. Credit can be topped up with it by transferring Bitcoin (BTC), Ethereum (ETH), Litecoin (LTC), Bitcoin Cash (BCH), Basic Attention Token (BAT), Augur (REP), ZRX or Stellar (XLM) from one's crypto account and converting them into euros. This way, you don't have to exchange until fiat is needed. Coinbase offers a choice of 1 percent cashback in Bitcoin or 4 percent cashback in Stellar as a special incentive. The cashback program also applies when using the Coinbase credit card via Google Pay or Apple Pay.
Incidentally, Coinbase is now accepting new customers for its credit card; the previous waiting list has apparently been processed. In direct comparison with the Binance credit card, both are also available in Germany and then open up the worldwide network of places that accept Visa credit cards. As with the comparison of Coinbase and Binance as the crypto exchange of choice, the respective linked credit cards have their advantages and disadvantages. To us, the Binance credit card's fee policy and cashback program seem more customer-friendly, for instance. But depending on your crypto portfolio, the Coinbase credit card may be a better fit. If in doubt, just try both.
Conclusion: Coinbase credit card is continuously improving
Paying for coffee via the Apple Watch or conveniently shopping on the Internet via the Google smartphone – these are ostensibly only small steps by which Coinbase is now upgrading its credit card, but they are in line with customer wishes. Crypto credit cards are increasingly leaving their niche and offering lifestyle. The competition to see which provider offers the most interesting overall package for a crypto exchange credit card is becoming more intense. In the end, it is the customers who profit from this.