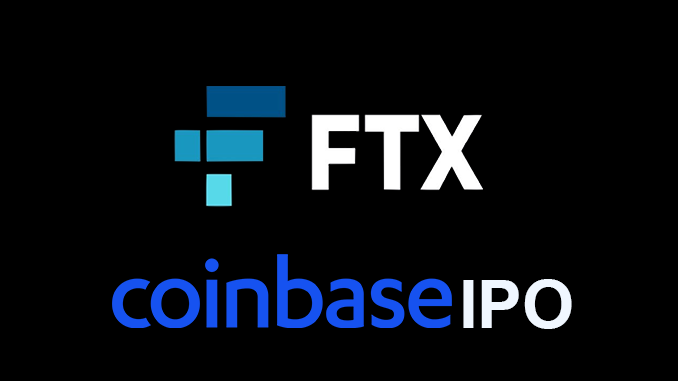 Coinbase's officially targeted IPO does not have a date yet, but there is already demand. Therefore, the crypto exchange FTX is working on making the future Coinbase share tradable in the form of a token right now.
The IPO of AirBnB a few days ago clearly demonstrated it: Investors are feverish for new investment opportunities, and AirBnB shares immediately rose by 100 percent or more compared to the issue price. With the crypto exchange Coinbase, another U.S. company is now in the starting blocks for an IPO, which opens up an innovative business field and raises high hopes for profits. The problem is that private investors rarely get their hands on the issue price for such IPOs. The solution: As AirBnB has already done, the trading platform FTX wants to map the Coinbase share with a token and thus make it tradable even before it is issued. This was confirmed by FTX CEO Sam Bankman-Fried to several US media.
Background on Coinbase at FTX
FTX already offers selected stocks for trading as futures or on the spot market. In consultation with regulatory authorities, FTX uses the artifice of mapping the respective stock as a token and thus being able to offset it against stablecoins such as USDC. In the case of AirBnB, FTX had listed the stock as a future before it made its debut on traditional exchanges. This approach is now being planned again and FTX is working with German financial institution CM-Equity to overcome potential hurdles from regulators.
What could then emerge for Coinbase stock, as with AirBnB, is a serious pre-market organized by FTX. In order to be able to trade shares at FTX as well, a verification by CM-Equity is necessary. This can be done online.
Coinbase, meanwhile, is estimated by experts to have a stock market value of $28 billion. In the last funding round in 2018, it was "only" 8 billion US dollars. With more than 35 million customers, Coinbase considers itself well positioned for the growing business with Bitcoin and Co. Information on the range in the issue price of Coinbase shares is not yet available.
Conclusion: FTX shows new solution for old exchanges
What FTX is planning to do with Coinbase stock is a smart move. Regulatory approval is still pending, but the AirBnB example gives encouragement for the green light. Whether AirBnB's fabulous leaps in profits for early investors will be repeated at Coinbase can't be guaranteed, of course. But as the crypto industry's first major Western IPO, Coinbase stock will predictably attract plenty of attention. With FTX, you'll likely have a chance to even get ahead of Coinbase's IPO.
---