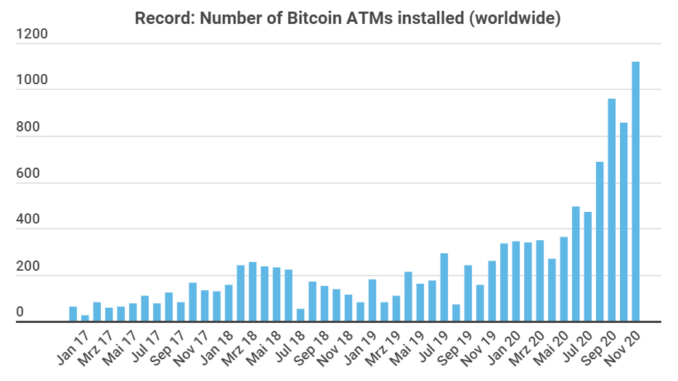 Milestone: More Bitcoin ATMs Installed Than Ever in November, Despite Rally BTC Remains Under Many Investors' Radar
1,120 Bitcoin ATMs were set up worldwide in November. Never before have so many been erected in a single month. The increase compared to the same month last year is 329%. This can be seen in a new infographic by Block-Builders.de. Bitcoin is also on the fast track in terms of price performance – yet demand for the cryptocurrency remains significantly lower than during the last rally in winter 2017.
As the infographic highlights, high-reach journals and magazines have already declared Bitcoin dead 341 times. "Bitcoin will soon have no value", stated a 2019 article in the New York Post. However, such Bitcoin prophecies have by no means come true.
The price of BTC has risen by 133.9% within the last 365 days. The DAX only climbed 1.3% over the same period.
Bitcoin Under The Radar
The fact that the broad masses are not yet gripped by Bitcoin fever is demonstrated by analyses of Google data. The Google trend score for the search term "Bitcoin" currently stands at just 16. A value of 100 represents the highest possible search volume. This maximum value was achieved between 17 and 23 December 2017. However, back then the cryptocurrency was trading even lower than it currently is. This is consistent with the results of a Block Builders survey published in November. According to this, it is primarily the financially better off who are interested in investing in digital currency these days, while the general public do not yet seem to have jumped on the bandwagon.
In terms of market capitalisation and the number of Bitcoin ATMs, currently the only way is up. However there are still major regional variations. While there are 10,624 of these machines are in the USA, there are just 49 in Germany. Even in Austria, which is considerably smaller, there are 148 Bitcoin vending machines.