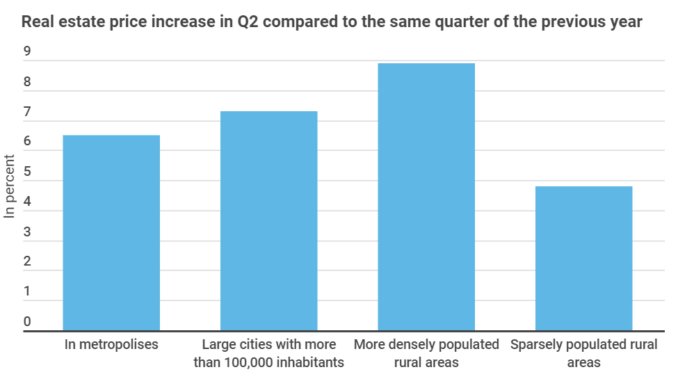 Property prices in more densely populated rural areas rose by 8.9% in the second quarter of the Corona crisis year, when compared to the same quarter last year. Prices in German metropolises also rose, but at a much lower rate of 6.5%. As a new infographic by Block-Builders.de shows, properties in more rural areas are increasingly sought after – also by city dwellers.
Just four years ago, 63% of people living in large cities indicated a desire to purchase a home in a city with more than 500,000 inhabitants. This share has now dropped to 57%.
The opposite trend can be seen in terms of actual buyers from metropolitan cities who have purchased property in more rural regions. In 2016, 12% of small-town properties were bought by metropolitans; this year, the share climbed to 14%.
Meanwhile, the infographic indicates that analysts see the risk of a major real estate bubble emerging, particularly in Munich and Frankfurt am Main. The likelihood of such a bubble is even greater than in Zurich, Paris or London.
Across all regions and cities, property prices rose by 7.8% in the third quarter compared to the same quarter of the previous year. This marks the strongest increase since 2016. Beneficiaries of this: property owners, as well as listed real estate companies such as Vonovia or Deutsche Wohnen.