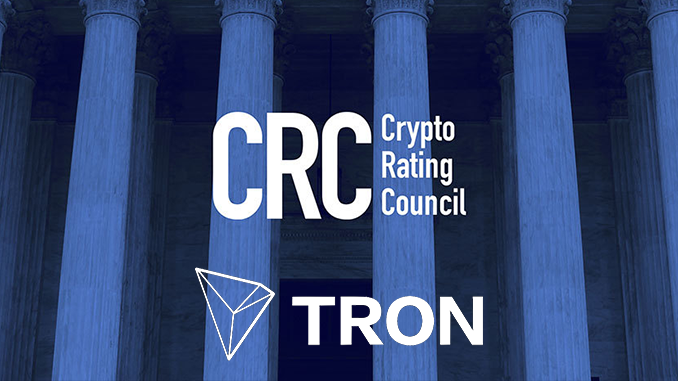 The Crypto Rating Council prepares ratings for Tron (TRX), Polkadot (DOT) and Nervos Network (NKB). According to a leaked draft, the three crypto currencies are likely to be security tokens.
The Crypto Rating Council has earned a reputation in the crypto scene as a good advisor in its ratings of crypto currencies on the question of whether and which Altcoins are likely to be classified as security tokens. This is an important criterion for investors, because if the powerful stock exchange supervisory authority SEC in the USA sets its sights on a crypto currency as a security token, this can be expensive or even fatal for the project concerned. The Crypto Rating Council has already issued tokens for 28 leading crypto currencies, and it appears that 3 more will soon be added, namely Tron (TRX), Polkadot (DOT) and Nervos Network (NKB). This is the result of an internal draft that was leaked. What is piquant in terms of content is that all three projects seem to be threatened by the worst rating ever awarded by the Crypto Rating Council.
Nervousness at Tron (TRX), Polkadot (DOT) and Nervos Network (NKB)?
The Crypto Rating Council works with a range of grades from 1 to 5, with 1 marking the highest grade at which there is probably no danger from the SEC. This applies for example to Bitcoin (BTC) and Litecoin (LTC). The worst mark awarded so far is 4.00 for Ripple (XRP), which is a possible security token in legal problems. The warning by the Crypto Rating Council with a score of 3.75 from EOS and Tezos (XTZ) has also proved to be correct.
According to the previously unpublished paper, Tron (TRX), Polkadot (DOT) and Nervos Network (NKB) are even expected to receive a rating of 4.75 each. In plain language: massive trouble with the SEC is to be expected here, and thus also costly court proceedings, penalties and compensation payments or settlements worth millions. Especially Tron (TRX), which has established itself in the TOP 20 of the largest crypto currencies by market capitalization, is likely to sound the alarm sirens. TRX is already experiencing a class action suit for unauthorized sale as a security token. A negative vote by the Crypto Rating Council could encourage further plaintiffs and persuade investors to sell their TRX.
Polkadot (DOT) is currently not yet traded on crypto exchanges, DOT is not expected to be issued until this summer. However, the ICO for Polkadot came up with a sum equivalent to a three-digit million US dollar sum, which could almost automatically arouse suspicion on the part of the SEC. Nervos Network (NKB) is already listed at several crypto exchanges outside the USA. At NKB, the Crypto Rating Council apparently has considerable reservations about the anti-inflationary system, which could resemble a dividend.
Conclusion: Influence of the Crypto Rating Council not to be underestimated
Official comments on the leak are only made by NKB, where the project management has indicated that it is in constructive dialogue with the Crypto Rating Council. According to the self-description of the council, which was founded by leading crypto exchanges, decisions are made behind closed doors. But all market participants are aware of the fact that the ratings of the Crypto Rating Council have the potential to influence the behaviour of crypto investors who keep their hands off crypto currencies that could come into conflict with the SEC.
This is why, for example, IOTA was pleased to receive a 2.0 from the Crypto Rating Council, because good marks can introduce new investors to a project. For the moment it is open whether the leaked draft on TRX, DOT and NKB will then also become the official final version. It remains important for the Crypto Rating Council to be perceived as an incorruptible authority.
---
Best place to buy TRON and Bitcoin: