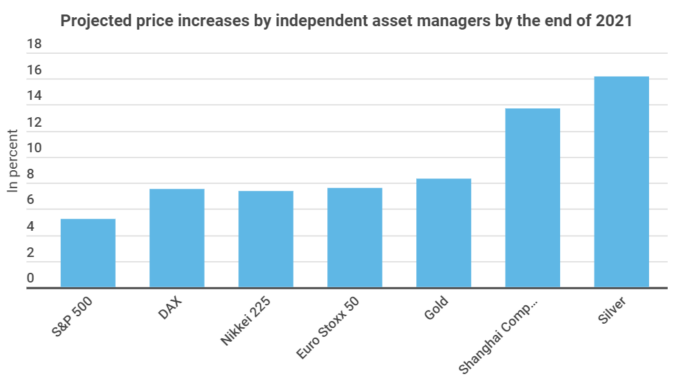 Just 18% of private investors expect stock markets to contract in the next 3 months. This makes them the most optimistic they have been since the end of September 2017, according to a new infographic from Block-Builders.de. Furthermore, the survey reveals that international fund managers are also similarly optimistic about the stock market in 2021.
Just under half of private investors in Germany expect upward momentum on the stock market in the next 3 months. A further 25% consider a more sideways movement to be more realistic, according to data from a "Handelsblatt" survey.
Among fund managers, as many as 84% expect corporate profits to rise again quickly, despite the Corona crisis's continuing impact on day-to-day business. As the infographic shows, the cash ratio of professional investors has fallen to just 4.1%, while the equity ratio remains comparatively high. According to BofA rules, if the cash ratio of fund managers hits the 4% mark, this represents a signal to sell.
Risks for Stock Exchanges
In spite of the prevailing optimism, fund managers also identify potential risk factors for stock market performance. In addition to Covid-19, these include trade disputes with China, the risk of a currency war or the possibility of the tech bubble bursting, as the Bank of America reported.
Stock Forecasts from Asset Managers
Despite uncertainties in light of the pandemic, asset managers expect the major benchmark indices to rise in 2021. According to a "City Wire" survey, the DAX is expected to rise by 7.5%, outstripping even the S&P 500. The median price forecast for the Shanghai Composite is as much as 13.7% higher than its current level.
All in all, both private and professional investors are confident about the stock market in 2021. They continue to regard equity investments as a central pillar of wealth creation. Particularly strong price increases are expected for the Asia region.