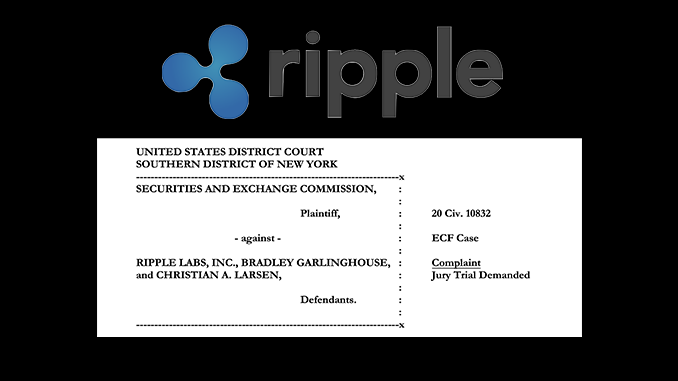 The US Securities and Exchange Commission has sued Ripple. It alleges that the company and two principal officers systematically sold XRP without necessary approval, taking at least $1.38 billion.
Ripple (XRP) must prepare for an uncomfortable 2021: Because the expected lawsuit of the Securities and Exchange Commission (SEC) is now public and enumerates over 1.3 billion US dollars in damages due to illegal behavior by Ripple. Specifically charged by the SEC are Ripple Labs as the company behind XRP, as well as CEO Brad Garlinghouse and co-founder Christian Larsen. These parties are accused of selling XRP against their better judgment without SEC approval. The SEC considers itself the U.S. Securities and Exchange Commission for Ripple and XRP, as it classifies XRP as securities. Garlinghouse, in an open letter, calls the lawsuit an "attack on crypto in the U.S." and urges Ripple employees not to worry.
What the SEC is accusing Ripple of with XRP
In just over 70 pages, the SEC meticulously lists how Ripple Labs and Garlinghouse and Larsen ignored all evidence that pointed to XRP as a financial instrument requiring authorization. This included lawyers and direct contact from the SEC. Instead, the responsible parties had sold XRP on a large scale, partly for themselves and partly for Ripple Labs, from 2013 onwards without sufficiently informing investors about the background. At least 14.6 billion XRP were sold and more than 1.38 billion US dollars were collected. 450 million US dollars of this amount went directly to Larsen and his wife, and 150 million US dollars to Garlinghouse.
The lawsuit also includes juicy details about Ripple Labs generating only small revenues from its technologies such as xCurrent. Ripple Labs' main business, it says, has always been selling XRP. The argumentation cultivated by Ripple Labs that XRP is a bridge currency and therefore not relevant for the SEC is not followed by the regulator. It demands that the damage caused be made good and that the court additionally impose fines.
Conclusion: XRP in the red – SEC big risk
Garlinghouse announces that he will also fight out the dispute with the SEC in the interest of the US crypto industry. Whether he wants to rule out the possible possibility of an out-of-court settlement is unclear. When the SEC describes bonus programs for Ripple employees, for example, who were to promote XRP in particular at the end of the year, it sounds scary with what matter-of-factness Ripple Labs ruled out even thinking about the actual status of XRP. In other words, for pages on end, the SEC's account reads as if Ripple Labs and XRP were destined to be a large-scale scam from the start.
XRP, meanwhile, lost heavily for the second day in a row and is now trading at $0.37. Earlier, XRP posted gains as a DeFi airdrop of Spark and Flare generated interest. Read more about this and how Ripple and XRP performed in the crypto year 2020 in our year in review.
---
Best place to buy Bitcoin and XRP: