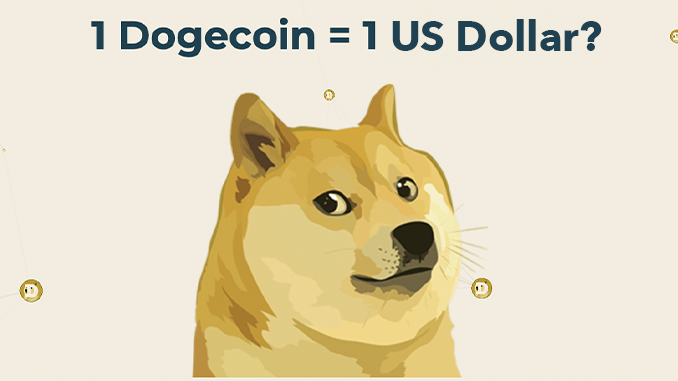 The price curve of Dogecoin (DOGE) has shown strong fluctuations over the weekend, but overall confirmed its upward trend. The Dogecoin phenomenon is also driven by Tesla CEO Elon Musk.
Dogecoin (DOGE) is again managing to surprise experienced traders with its price performance. In the middle of last week, Dogecoin was still trading at below levels of US$0.30 and over the weekend DOGE has stalked back up to the US$0.40 mark. With a market capitalization of around 50 billion US dollars, Dogecoin now seems to have sustainably secured a place among the ten most important cryptocurrencies. It is often individual Twitter messages that send DOGE into the plus. The market reacts particularly bullishly when Tesla boss Elon Musk posts tweets like this one about Dogecoin:
Definitely

— Elon Musk (@elonmusk) May 1, 2021
Just a few minutes after this tweet, the price of DOGE jumped by a whopping 10 percent. What Elon Musk announced to his more than 50 million followers on Twitter was that when he appears as a star guest on the legendary TV show "Saturday Night Live" next Saturday (May 8), he wants to use the opportunity to promote Dogecoin there. Musk is a self-confessed fan of Dogecoin, although he should also be aware of DOGE's weaknesses. With Dogecoin, there is no cap on the maximum number of tokens that can be generated, so there is no hard brake on inflation. And there are still hardly any points of contact on the Internet that accept DOGE as a means of payment.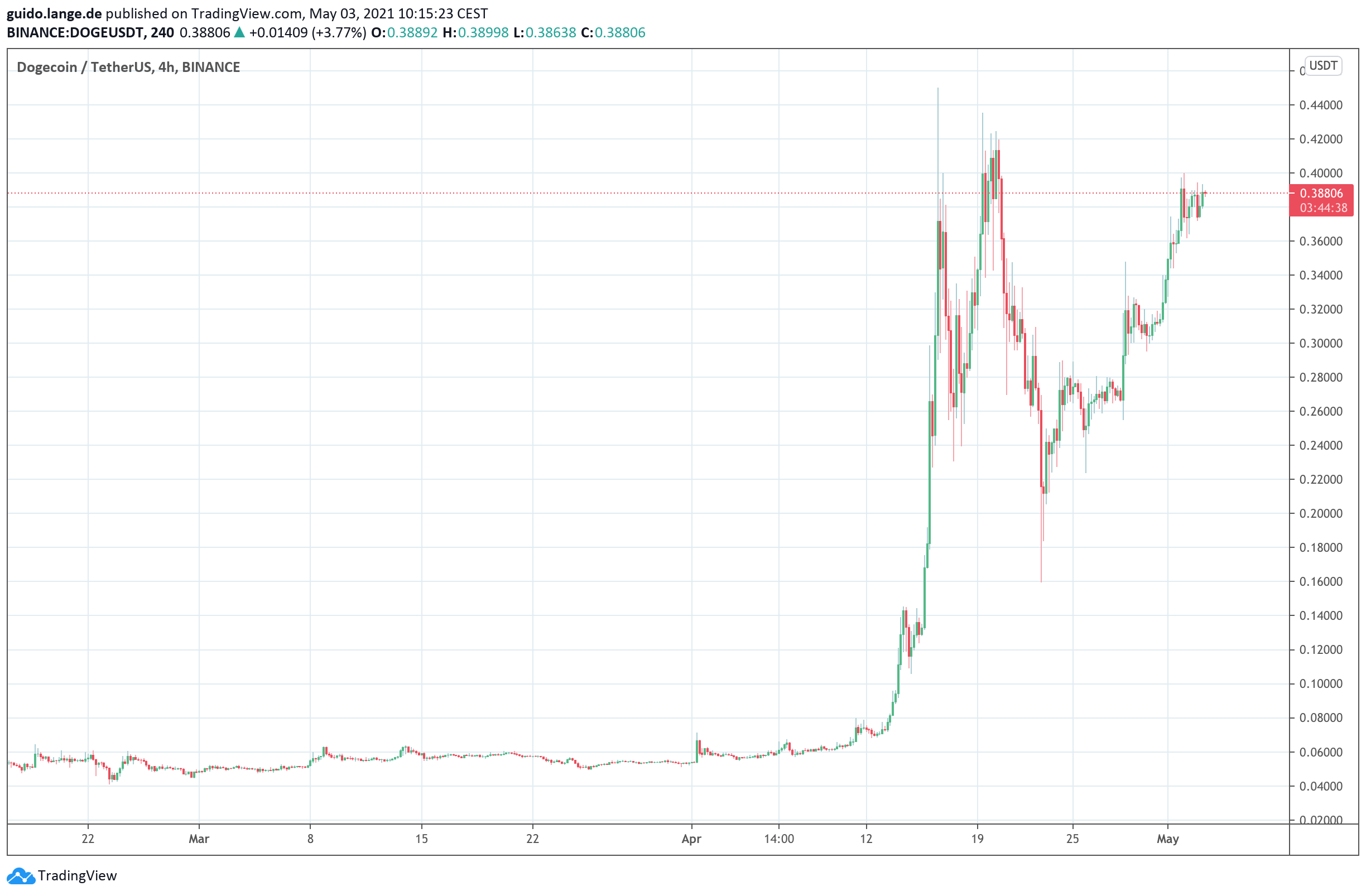 Fun coin DOGE attracts attention
But none of that seems to impress the fan base for Dogecoin, which continues to grow. Whether the owner of the NBA club Dallas Mavericks Mark Cuban or YouTube star Remy Munasifi – they and others make their investments in DOGE public. A similar effect was seen back in February when the first celebrity squad grouped behind Musk and Dogecoin. Add to that the investment-happy community of WallStreetBets, which has taken DOGE to its heart. Its self-proclaimed but anonymous chairman issues a $1 price target for Dogecoin on Twitter.
Meanwhile, major brands such as Snickers candy bar and Axe deodorant have also incorporated Dogecoin into their advertising campaigns. So at least the US public is made curious about DOGE on a daily basis and can then invest in seconds via investment apps like Robinhood.
Conclusion: snowball effect with Dogecoin?
If you are considering getting in on the Dogecoin trend, you should honestly examine your risk tolerance. Some things at DOGE currently suggest that celebrities are getting in over their heads with Elon Musk at the helm. Dogecoin was originally conceived as a coin that would convey the basic subject of cryptocurrencies in a friendly way. DOGE was never intended as a tool for investments and applications in the real economy, as demonstrated by its outdated blockchain and lack of inflation management. Thus, Dogecoin remains an investment opportunity where you have to keep an eye on Twitter and should be prepared for the fact that price gains can be followed by crashes just as quickly – because DOGE is not driven by fundamental news, but by the sometimes bizarre humor of a crowd of celebrities.
---
Open a Binance Account here and save 10% on fees for a lifetime.