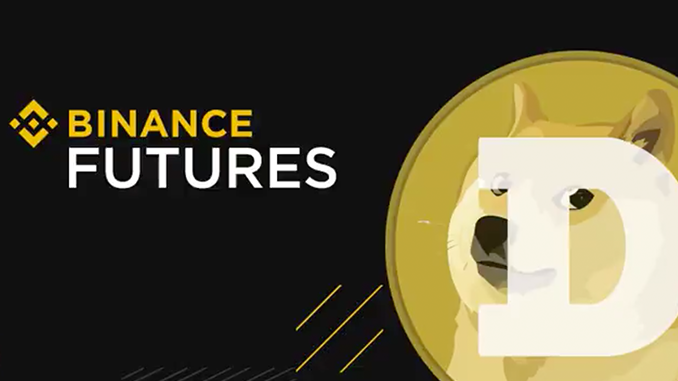 The Dogecoin (DOGE) hype triggered by a challenge at TikTok is now also finding expression at the world's leading crypto exchange Binance: From today (Friday) onwards, futures based on DOGE can be traded there, which allow trading with a leverage of up to 50.
The crypto exchange Binance is once again proving its ability to react quickly and is taking up the trend theme of Dogecoin (DOGE) with futures based on DOGE. As of today, Friday, Binance DOGE is listing futures against tether (USDT), the platform informs. These are so-called perpetual futures, i.e. those without a fixed expiration date. Trading is permitted with a leverage of up to 50 and traders can go both short and long on the DOGE futures to profit from negative or positive price developments. Dogecoin has been attracting public attention for a few days through a challenge on TikTok.
Background on DOGE and action at TikTok
Dogecoin applies self-ironically as the crypto currency preferred by dogs of the Shiba breed. Accordingly sweet is the logo with the heraldic animal. DOGE was brought into being to playfully introduce people to the principle of crypto-currencies. From this, a lively community developed, which DOGE brought to life through expenses and advertising banners to major events, for example in sport. The monetary value of Dogecoin has so far played a subordinate role, but DOGE is often used to reward successful posts on the Internet.
But then this week an unforeseen dynamic occurred at DOGE. On TikTok, the young social network with China as its country of origin, a campaign was launched under the hashtag #DogecoinTiktokChallange, calling for Dogecoin to be bought for 25 US dollars. Together they would raise the price of DOGE to 1 US dollar and the originally invested 25 US dollars would thus become 10,000 US dollars, the promise which helped Dogecoin to a price jump of 40 percent and more.
The price target of 1 US dollar for DOGE seems utopian at the current price of around 0.004 US dollars. But Binance sees potential for Dogecoin futures in the sharp price fluctuations. As long as #DogecoinTiktokChallange is trending, strong price movements can be expected and the challenge is now spreading to social networks other than TikTok. At the same time, however, it is controversial, because the young buyers of DOGE who were addressed are probably not necessarily aware that Dogecoin is unlimited in its maximum number and can therefore experience great inflation.
Conclusion: Does trading with Dogecoin stop the fun?
If you would like to start trading DOGE Futures with Binance, your normal account with Binance is sufficient. However, as with other futures trading, you should be aware that this financial instrument also involves the risk of total loss, which is further increased by trading with leverage. On the other hand, the new hype surrounding Dogecoin offers considerable profit opportunities if you are able to correctly predict the price trend.
---
Open a Binance Account here and save 10% on fees for a lifetime.