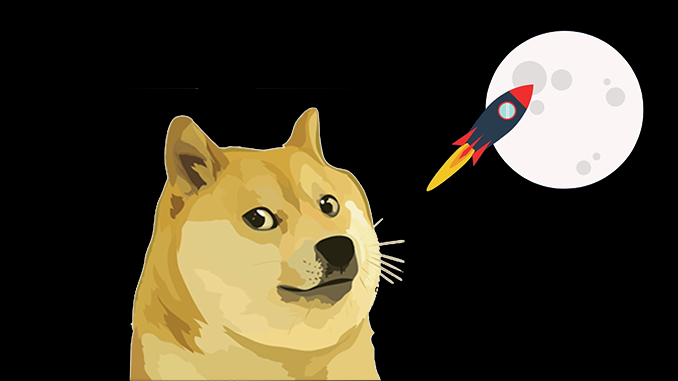 Dogecoin (DOGE) has increased in price by around 350 percent in the last seven days – but there are rather no sustainable factors behind the fabulous development. Why you should pay attention with DOGE.
Almost on a regular basis, Dogecoin (DOGE) is making news with price jumps that make Bitcoin (BTC) and leading altcoins look pale. This time, DOGE's rally picked up steam in mid-April. From US$0.70 per Dogecoin on April 12, it went – with temporary setbacks – towards an all-time high of US$0.43 on April 17, and today (Monday, April 19) DOGE is trading at a still remarkable US$0.33. We remember: back in the summer of 2020, a campaign on the social network TikTok drove drove Dogecoin to previously unknown highs, and in early 2021 Elon Musk and other celebrities advertised DOGE – also with positive effects on the price. At the moment, Dogecoin is even in the top ten of the most important cryptocurrencies with a market capitalization of a good 40 billion US dollars.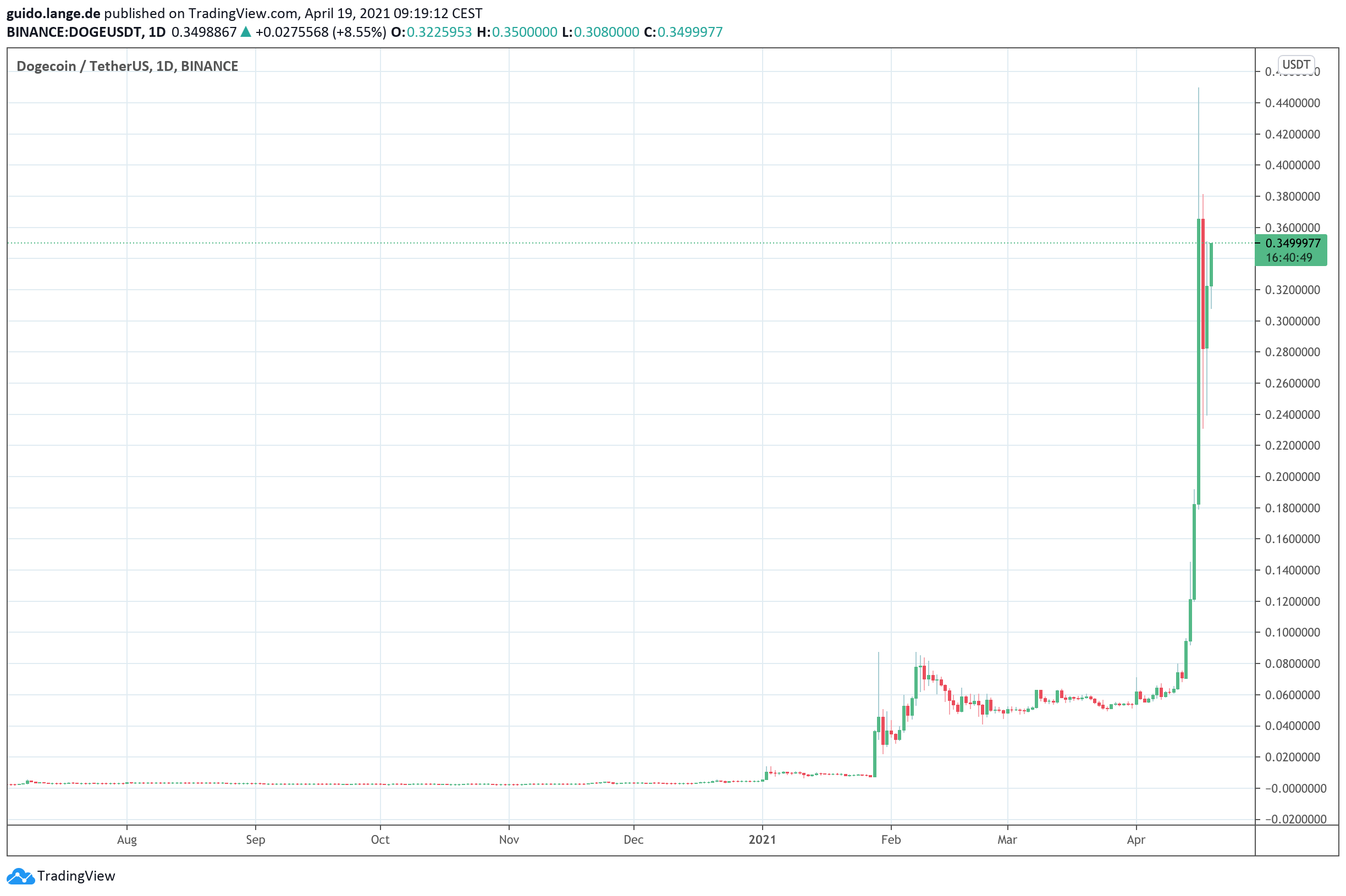 At the same time, unlike the other important altcoins, DOGE has no concrete monetary use case. As a means of payment, Dogecoin is accepted almost nowhere, as a store of value DOGE fails due to unlimited maximum quantity and the blockchain is a modified version of that of Bitcoin – so Dogecoin is hardly suitable for DeFi. DOGE was launched in 2013 with the aim of making the principle of cryptocurrencies a playful experience. The inventors of Dogecoin did not have in mind that this would develop into a meme with a massive influx of capital.
Why is Dogecoin pumping like crazy again?
To understand DOGE's recent price capers, there are several factors to consider. Crypto expert Meltem Demirors thinks that the Reddit group WallstreetBets, known for the speculation surrounding GameStop's stock, has its fingers in the pie again. After discussions about cryptocurrencies had been banned there, the ban had been lifted again for a few days explicitly for Bitcoin, Ethereum and Dogecoin. That was enough to send Dogecoin on a record course in an arranged action, Demirors speculates.
But Tesla CEO Elon Musk also secreted a few tweets on Twitter last week about DOGE, where he repeated his slogan of wanting to help Dogecoin head toward the moon. This slogan #DogecoinToTheMoon has been trending ever since.
Conclusion: Dogecoin remains an object of speculation
You as an investor should stay prudent with DOGE even in the hype. Demirors rightly points out that technologically little to nothing has been happening with Dogecoin for years – but the daily trading volume sometimes even surpasses established ETFs. We, too, interpret the current situation at DOGE as a result of traders not shying away from high risk. Just as quickly as Dogecoin is currently rising in price, it can also crash again. After all, without a real use case, Dogecoin would hardly be missed when sympathizers turn away again. So, as fluffy as the cute Dogecoin appears as a meme, there is hardly any real value behind it, but above all huge speculation potential.
---
You can buy Dogecoin on Binance. Open a Binance Account here and save 10% on fees for a lifetime.