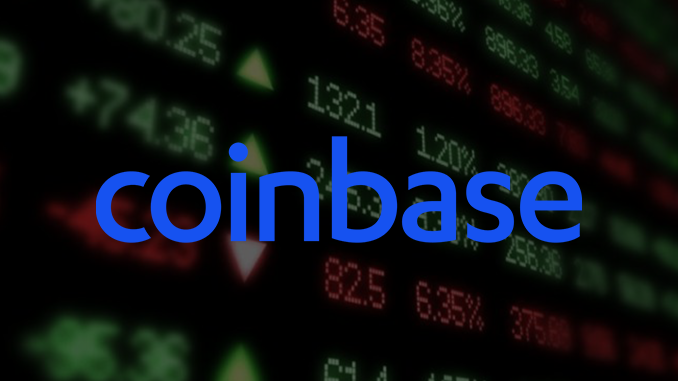 The US crypto exchange Coinbase went on the floor yesterday itself. Coinbase shares got off to a strong start on the first day of trading, but then also lost significantly. The debut was widely considered a success.
Since the end of 2020, the crypto scene has been eagerly awaiting Coinbase's IPO, which was first officially announced at the time. Yesterday, Wednesday, the time had come: through a so-called direct listing, Coinbase shares came to the market, i.e. without a prior pricing process and without issuing the shares through accompanying banks. The price of $250 per Coinbase share set by NADAQ in advance was only for databases; no security changed hands at that price. Instead, Coinbase's price curve records an entry price of $381 for the first day of trading. Immediately afterwards, the price briefly shot up to a good 400 USA dollars, but then lost significantly and at the close of trading in New York, Coinbase was trading at 328 US dollars.
To put these numbers in perspective, a quick review is necessary. In private pre-market trading, Coinbase stock had sold for just over $300. Investors had been much more optimistic about the security in tokenized pre-trading at FTX, where Coinbase even rose to over 600 US dollars before the official start of trading. Bitcoin (BTC), the crypto industry's lead currency, had also reported a new all-time high of a good 64,800 US dollars shortly before Coinbase's debut.
So we hold: demand for Coinbase existed on a large scale on the first trading day, but not at any price. In the aftermath, the rather conservative forecasts from the classical financial world were fulfilled, while the crypto scene was a good deal off the mark with superoptimism. According to the latest figures, Coinbase is now valued by the market at just under $86 billion, which surpasses classic exchanges such as NASDAQ itself or Deutsche Börsen. However, Coinbase did not deliver the big boom effect that enthusiasts were hoping for, and the price of Bitcoin also corrected back to a level around 63,000 US dollars.
Mixed stock market start of Coinbase
Far beyond the crypto industry, the IPO of Coinbase was classified as "historic". After all, it is now possible for the first time to trade a major market participant directly on a traditional exchange and thus participate in trends in the crypto market without investing directly in Bitcoin and Co. However, it also follows that Coinbase stock could prove volatile. If Bitcoin and Altcoins boom, a lot is traded on Coinbase and accordingly, fee income, Coinbase's most important source of revenue, increases. This dependence is likely to have caused investors to be cautious about Coinbase, despite its recent record quarter.
Congratulations for Coinbase, meanwhile, came from competitors, albeit with biting backhandedness. Sam Bankman-Fried, head of FTX, for example, linked his congratulations to Coinbase with the remark that NADAQ seems sleepy in comparison – and with a calculation that FTX could probably become much more valuable than Coinbase. From Binance, CEO CZ sent congratulations to his Coinbase counterpart Brian Armstrong – and then could not resist pointing out global weaknesses at Coinbase as well as the request not to underestimate BNB.
Conclusion: Coinbase has a solid start on the stock market – but nothing more
Now the coming weeks and months will show where the journey for investors with the Coinbase share goes. Will dividends be paid out? Can the price curve make substantial gains? The first trading day for Coinbase looks like a solid entry onto the stock exchange floor, but leaves less dust than expected by parts of the crypto scene.
---
Best place to buy Bitcoin: