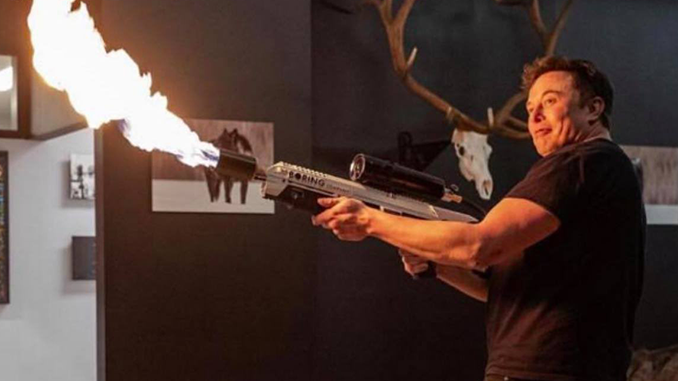 Tesla CEO Elon Musk is probably the richest person in the world – and loves Twitter. With comments on inflation and Bitcoin, Ethereum as well as Dogecoin, he has now influenced price curves again.
When Elon Musk hits the keys on his Twitter account, it's often the heat of the moment. The Tesla CEO has almost 80 million followers on Twitter, making him probably the world's biggest all-around influencer since former U.S. President Donald Trump was banned. Musk has been particularly colorful on Twitter once again these days – the first stirrer was short comments on monetary policy and cryptocurrencies. Elon Musk asked the Twitter audience what others thought about inflation rates in the next few years. Persistent inflation of 5 percent and more is reported from the U.S. and the EU, well above levels than a sound monetary policy can want. Musk's question is valid in that respect.
As a general principle, for those looking for advice from this thread, it is generally better to own physical things like a home or stock in companies you think make good products, than dollars when inflation is high.

I still own & won't sell my Bitcoin, Ethereum or Doge fwiw.

— Elona Musk (@elonmusk) March 14, 2022
Among the answers, however, Musk was particularly interested in that of Michael Saylor, who since late summer 2020 has been transforming his publicly traded company MicroStrategy step by step into a giant Bitcoin investor. Saylor, then, is once again promoting Bitcoin (BTC) as an inflation hedge to Musk as well. This, in turn, prompts Musk's general advice: in times of inflation, it is best to hedge one's values in lines of business such as real estate or stocks, and not in U.S. dollars. He, Musk himself, by the way, holds Bitcoin, Ethereum (ETH) plus Dogecoin (DOGE) and does not intend to sell these crypto assets.
"Dogefather" Elon Musk – bonkers or valuable advisor?
In the immediate aftermath of Musk's remarks, crypto news tickers recorded a 3 percent gain for Bitcoin, just over 2 percent for Ethereum and nearly 4 percent for Dogecoin (DOGE). The unanimous tenor: the reason for the conspicuous price movements was Musk's Twitter activities. In the crypto scene, Musk has been highly controversial in matters of Bitcoin since his entry and exit from Tesla – but that does not stop Musk from repeatedly beating the advertising drum for Dogecoin in particular. Additionally piquant: Since 2018, Musk has actually been condemned by the US Securities and Exchange Commission (SEC) to have his tweets reviewed if they could be relevant to the stock market. Recently, Musk wants to have this regulation checked anyway.
The Russian war in Ukraine – Musk wants to get into the ring against Putin
Shortly after Musk turned his back on monetary policy, inflation and cryptocurrencies on Twitter, he took aim at the very next target. In a tweet directed at Russian President Vladimir Putin, he proposed a man-to-man duel over Ukraine. Musk's peace initiative continues, meanwhile he is already pondering the distribution of television rights revenues. At the very beginning of Russia's war of aggression, Musk himself had ensured that Ukraine was supplied with hardware and capacity from Starlink for satellite Internet. Musk also owns the company.
Conclusion: Beware of Musk, Twitter and crypto.
In the case, Elon Musk's recent appearances on Twitter exemplify how close opinion forming and manipulation can be. Short-term investors can hardly ignore Musk on Twitter. Whether his positions on Bitcoin and Co. or ideas for the war over Ukraine have real substance is, in case of doubt, beside the point. After all, it has been proven that they generate attention, and that in itself is a valuable currency. Understandably, the opinion remains no less that the 50-year-old Musk, with an estimated fortune of more than 200 billion U.S. dollars, tends to go over the top on Twitter in wild hours. But that, too, is a matter of taste.
One more important warning: there are dozens of offers for Tesla Coins, Musk Coins and the like circulating on the Internet. These, like all the Bitcoin trading bots advertising Musk, tend to be scams. There is no separate cryptocurrency initiated by Musk or any of his companies. Such offers that seek to dock on Musk's popularity are strongly discouraged.
---
Best place to buy Bitcoin: