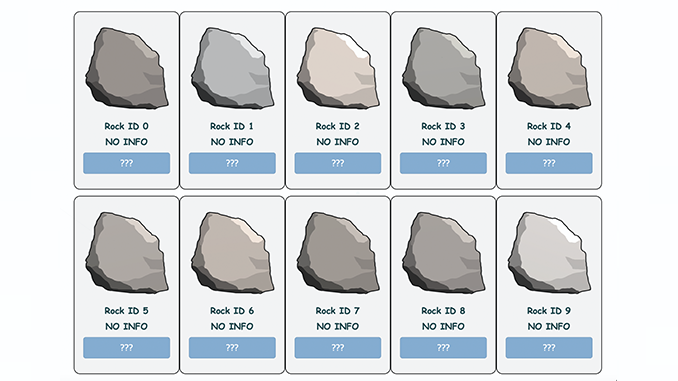 In the young market for digital art via NFT, the Ether Rock project is experiencing record sales. Currently, the JPEG rocks of Ether Rock are changing hands piece by piece for around 1 million US dollars.
The gold rush in the creative NFT market continues: In March, the sale of an NFT at Christie's for the equivalent of nearly $70 million made headlines worldwide; this August, CryptoPunks are fetching record prices. Currently, Ether Rock NFTs are pushing their way to the forefront with huge price increases. The Twitter account belonging to the project keeps track of owner changes and sums paid. As of today, Wednesday, more than $1 million in Ethereum (ETH) is being plunked down for an Ether Rock – two weeks ago, the average price was around $100,000. What's behind the phenomenon?
Background on EtherRocks
Ether Rocks launched in December 2017 just a few months after the now famous CryptoPunks. 100 rocks were offered, only 20 of them could be sold by 2020, at prices around 300 US dollars. Ether Rock's JPEGS are said to be reminiscent of the US toy Pet Rock, which experienced hype half a century ago. Each unique Ether Rock is documented as an NFT on Ethereum's blockchain, and the underlying smart contract allows trading only through the original platform.
With the widespread coverage of the CryptoPunks and other successful NFT projects, collectors and crypto celebrities seem to be getting excited about EtherRocks arguably because of their long history and distinct rarity. Justin Sun, for example, the head of TRON (TRX), enthusiastically reported via Twitter on Monday that he had just purchased an (Ether) rock for half a million US dollars. As of today, Justin Sun could probably resell it for twice that.
Conclusion: Ether rock indication of overheating NFT market prices?
Market data on CryptoPunks continue to show rising pinch in this NFT project, which is considered a pioneer. Ether Rock can also claim to have recognized the possibilities and future significance of blockchain technology for creative applications very early on. The artificial value of both projects is certainly debatable. Some art experts believe that it won't be long before NFTs are ready for the museum. If that turns out to be the case, an Ether Rock would certainly decorate for historical reasons, precisely because they are so rare. But there's no guarantee whether the extremely dynamic price spiral for EtherRocks will continue upward. NFT collector Andrew Kang claims to own two EtherRocks and explains via Twitter: "The absolute uselessness of the EtherRocks coupled with the hard limited number of 100 items make them so desirable. However, he also writes: Whether his opinion will still have aged well in five years or whether Ether Rock will turn out to be a zero number financially, remains to be seen.
---
Open a Binance Account here and save 10% on fees for a lifetime.