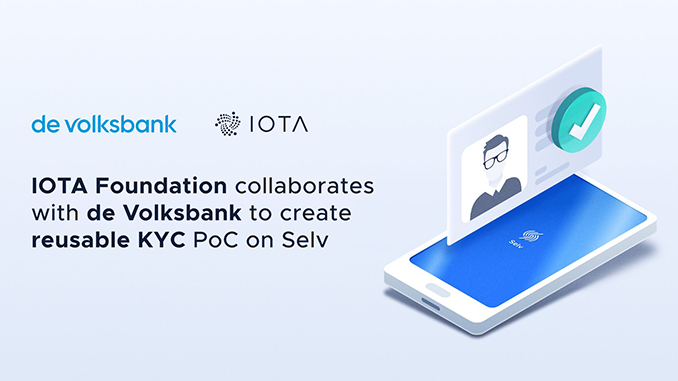 The IOTA Foundation is developing a program for digital identities in many areas of life. In the Netherlands, IOTA Identity is now being jointly tested as a prototype at de Volksbank.
Since May 2021, IOTA Identity is available as a beta version. In the future, the IOTA Foundation wants to establish this program for identity verification and digital documents as a standard. There is now a test run for IOTA Identity according to the blog post in cooperation with the Dutch de Volksbank. There, IOTA Identity is supposed to score plus points by being able to conveniently and easily use a once-confirmed identity for various services, from opening an account to taking out insurance to registering a business.
According to the IOTA Foundation, the feasibility study will pay particular attention to meeting legal conditions of the EU Data Protection Regulation as well as the right of self-determined digital identities. In practice, this means, for example, that a person can record in their digital identity not only their name, date of birth and place of residence, but also other vouched-for information such as university certificates or proof of Corona vaccination. When signing up for an online service, the digital identity holder then decides which details to release to the service provider. In the example of the IOTA Foundation and de Volksbank, for example, proof of insurance is mentioned, which would be necessary for setting up a company.
Technologically, IOTA Foundation and de Volksbank organize their project via the app Selv, which was developed as an opensource by the foundation. A demo of Selv can be found here and already maps the use case of de Volksbank. Its head of innovation, Michiel Sollet, praises the approach as a win situation for customers, society, the bank itself and its shareholders. This is because customer satisfaction, more efficient processes and time savings result from an identity check that can then be used in many places via Selv. A press release highlights IOTA and the Tanglenet as the technological basis. de Volksbank is one of the five largest banks in the Netherlands and serves both private and business customers.
Conclusion: IOTA Identity – showcase project with potential.
Using blockchain technology as a basis for digital identities is not an exclusive idea of IOTA. Microsoft has already made a corresponding project ION publicly available and Cardano (ADA), for example, is planning a use case with five million participants right away in Ethiopia. IOTA Identity thus meets a competitive future market in which Europe with EU legislation plays an important role. IOTA has not yet come into play for the digital vaccination passports for the Corona pandemic. With Volksbank as a reference, IOTA Identity would take a big step forward – if the proof-of-concept actually grows into an adoption for everyday life.
---
Best place to buy Bitcoin and IOTA: