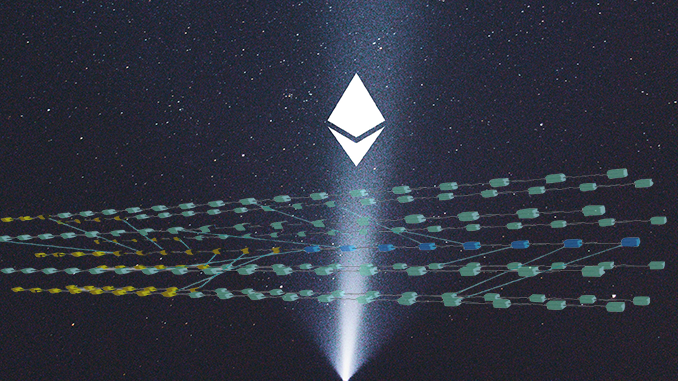 At Ethereum the transition to 2.0 with Phase 0 aka Beacon Chain has started as planned. Thus, a separate block chain exists, on which the Altcoin ETH 2.0 is called. Binance already supports the staking of ETH 2.0.
Ethereum (ETH) has taken a big step to renew its technological base from scratch and thus make it future-proof. Because the Beacon Chain is live, which marks phase 0 for Ethereum 2.0. The eagerly awaited launch was secured for December 1, when almost 250,000 ETH were made available for the Beacon Chain as desired. Meanwhile, according to real-time data, a good 900,00 ETH worth the equivalent of around 540 million US dollars have been gathered behind Ethereum 2.0. This is closely connected with the fact that the world-wide leading crypto stock exchange Binance ties an interesting offer for ETH 2,0.
ETH 2.0 – what is that actually?
The Beacon Chain is a parallel block chain to the actual block chain of Ethereum. In the Beacon Chain, Proof-of-Stake (PoS) is used as protocol, while in the old block chain of Ethereum, Proof-of-Work (PoW) is still used. PoS is rightly generally considered to be faster, more scalable and should also guarantee lower fees than PoW. The protocols are the basis for the validation of transactions in crypto currencies. Ethereum as the second largest crypto currency by market capitalization wants to play it safe when converting from PoW to PoS and is testing the step extensively through and in the Beacon Chain. For it Ethereum were demanded, which cannot be exchanged however until further notice as now ETH 2.0 (also ETH2 called) no more into "old" ETH back.
In order to solve this dilemma, the crypto exchange Binance is now advancing. In a Blogpost Binance lists, which one thought out for customers:
Binance organizes the Staking of ETH 2,0. Up to 20 per cent annual interest is aimed at. Until 16 December, Binance is even adding Binance Coin (BNB) on top for ETH 2.0, which will be provided for staking in the Beacon Chain. In the usual user-friendly manner, this is made possible by a first click here.
In January 2021 Binance plans to launch a token called BETH. This token is bound to ETH 2.0, but bypasses the blockade for ETH 2.0, which cannot be removed from the Beacon Chain and therefore cannot be traded or used for other purposes such as DeFi.
Also the crypto stock exchange Coinbase works according to own data on a comparable program, is however not yet startklar. One will begin at the beginning of 2021 step by step with complete and customer-friendly support for Ethereum 2,0, is said.
What is the next step with Ethereum 2.0?
Phase 1 for Ethereum 2.0 is planned for the end of 2021. Then the block chains that are now running in parallel will be merged and ETH 2.0 will be released. However, Ethereum 2.0 will not reach full functionality with the important Smart Contracts until phase 2, which could take until 2022. Once the gradual upgrades for Ethereum are completed, the ecosystem should be able to handle up to 100,000 transactions per second (TPS). Ethereum is currently reaching its limits with 15 TPS. This leads to increased transaction fees and unwanted waiting times.
Conclusion: Ethereum demonstrates innovative strength
Ethereum inventor Vitalik Buterin congratulates himself and all ETH users on Twitter on the successful launch of the Beacon Chain. In fact, the project encountered various difficulties during development and the already postponed start date seemed to be endangered still in summer. But now the important module Beacon Chain is being tested and the support of leading crypto exchanges like Binance and Coinbase shows support for it in the crypto industry. With a fully functional Ethereum 2.0 would underline the importance of the second most important crypto currency impressively. The way to get there is pretty much outlined, the waiting period for phase 1 for Ethereum 2.0 begins.
---
Wer noch keinen Binance Account hat kann sich hier einen einrichten und dabei 10% Gebühren sparen, alles wichtige dazu erfahrt ihr hier.