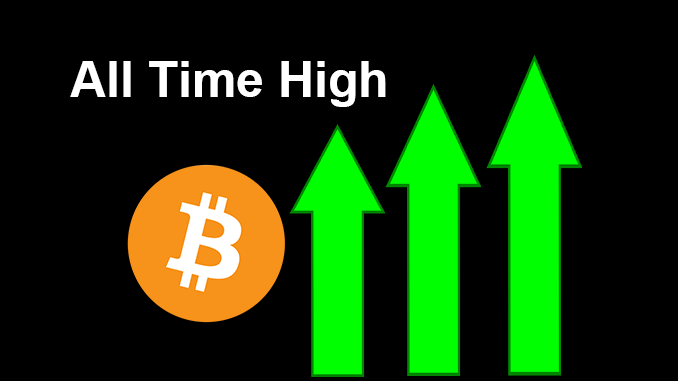 Occasionally Bitcoin (BTC) was quoted at over 19,800 US dollars last night and a new all-time high can be noted. Experts see the market situation significantly different than in December 2017, when Bitcoin's previous all-time high was reported.
A Bitcoin was never worth so much: With at times well 19,800 US Dollar per BTC in the night to Tuesday various crypto exchanges fixed a new all-time high for the mother of all crypto currencies. Whether November 30 / December 1, 2020 will go down in the history of Bitcoin is not certain, however. Because on the one hand, the leading data service of the crypto industry, CoinMarketCap, still holds on to the earlier all-time high for Bitcoin of 20,089 US dollars from 17 December 2017 in its calculations. And on the other hand, experts unanimously point to a fundamentally different market situation for Bitcoin than during the boom of 2017/18.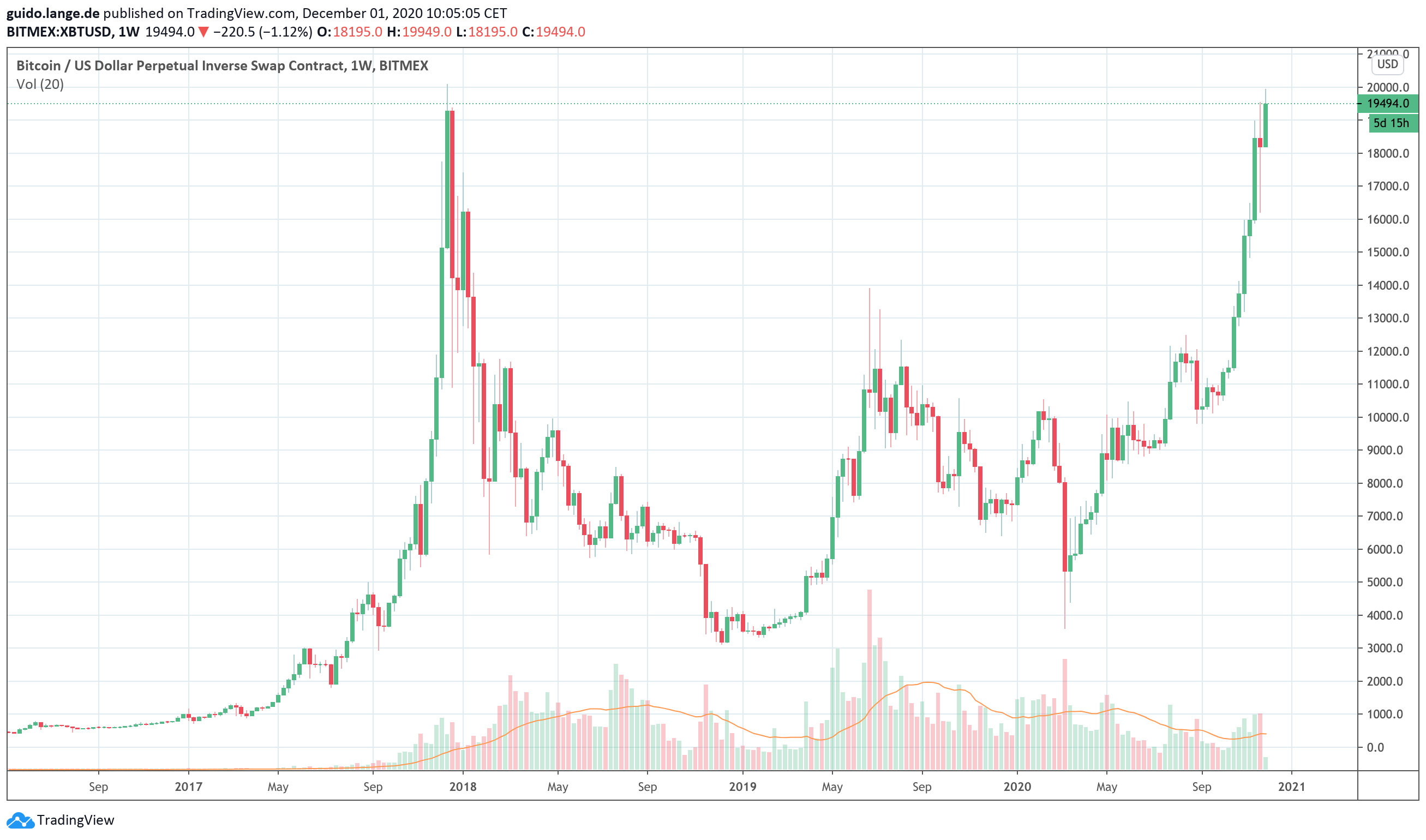 All-time high for BTC and the crux with the database
To a new all time high Bitcoin had itself in the past weeks rather constantly herangepirscht. But how is one to measure this actually? Are individual Deals on a crypto stock exchange enough? Should the highest level over at least one hour over different prominent crypto stock exchanges be to be determined With Wikipedia the documented all time highs of 17 December for Bitcoin vary in the different language versions and also now the mass media are not really in agreement. Some report like focus and der Spiegel "all time high". Clearly, all time high is a clicking guarantor – and so with some editors the finger twitched perhaps more rapidly than the course curve moved with Bitcoin. But we can hold on in any case: Bitcoin scratches at the all-time high, which is certainly not wrongly described with 20,000 US Dollar. The psychologically important barrier falls, whether now straight now, tomorrow or in the coming days – from it medium and long-term investors proceed surely. From here also the causes for the bull-strong Bitcoin are to be found.
Bitcoin boom from late 2017 and now in comparison
This year, the price of Bitcoin has risen rather leisurely since January 1 from a good 7,000 US dollars to almost 12,000 US dollars on August 11, with setbacks. On that day, MicroStrategy became the first Nasdaq company to report its large-scale shift of cash reserves into BTC. This date is often seen by many as the starting point for the recent price explosion.
In 2017, things were quite different: Bitcoin started the new year with almost exactly S$1,000 and had reached $3,000 at the beginning of August. Things got really tough for BTC from October onwards, when the price of $4,000 started to rise in giant steps towards $20,000. At that time, the market was partly fueled by speculators and frequent media reports brought many citizens into contact with Bitcoin for the first time.
But by 2020, Bitcoin is no longer a niche topic, as evidenced by MicroStrategy's strategic decision. This example was soon followed by Square, and then came October 21, 2020, when PayPal announced that it would include Bitcoin in its portfolio. So this time, it is established large corporations that are committed to Bitcoin and compare it to "digital gold" as a store of value.
Such fundamental data suggest that all newly offered BTC will be bought up directly by major investors as a longer-term investment. This means that the current upward trend of Bitcoin is probably on a much more stable footing than in 2017, when BTC plunged to regions around $10,000 just a few days after its all-time high. Today, however, there is growing tension as to how far Bitcoin's price curve will still make it after the $20,000 hurdle has been cleared.
There is another important reason why only a minority of analysts are currently forecasting sustained price corrections for BTC. The risk of inflation as a result of relaxed monetary policy due to the Corona crisis is of a completely different magnitude than in 2017, when the financial crisis of 2008 seemed to have been overcome and almost nobody spoke of inflation. Now the spectre of future inflation is hard to ignore, even for years to come, and everyone is talking about Bitcoin as inflation protection. In addition, Bitcoin has achieved a certain regulatory status through financial products on traditional stock exchanges, which is also confidence-building.
Conclusion: Good prospects for all-time highs with Bitcoin
Let's free ourselves for the moment from the question at which price exactly the all-time high of Bitcoin can be determined. It is probably more important that the path to this goal is much more stable in 2020 than in 2017. Because the trend this time is based on clearly identifiable strategic decisions by large companies and macroeconomic circumstances, 20,000 US dollars per Bitcoin does not necessarily mean the end of the line. Still important for investors like you: At the end of 2017, many large old coins such as Ethereum (ETH), IOTA or Ripple (XRP) also reached all-time highs. This scenario does not seem to repeat itself and why this is so, you can read here with us.
---
Best place to buy Bitcoin: