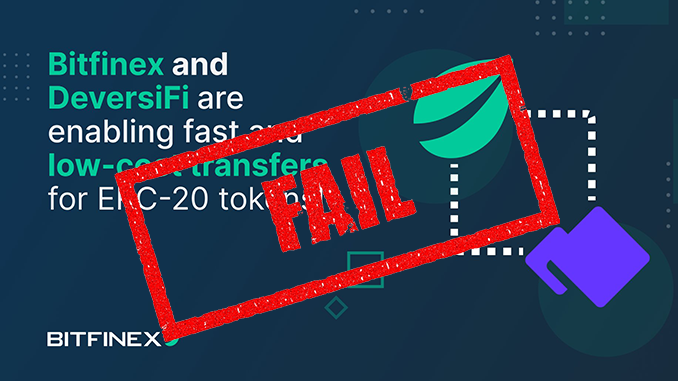 A transaction has occurred in the Ethereum (ETH) ecosystem that paid the equivalent of more than $23.7 million in fees. What was going on?
The potential pitfalls of Decentralized Finances (DeFi) were clearly demonstrated yesterday by a transaction in the Ethereum (ETH) ecosystem: actually, "only" 100,000 US dollars in the form of the stablecoin Tether (USDT) were to be sent from a wallet attributed to the crypto exchange Bitfinex to the DeFi platform DeversiFi. But for reasons that remain unclear, an Ethereum transaction fee of about 7,700 ETH was guaranteed and also retrieved in this transfer order, as shown in blockchain data here. Converted, that's about $23.7 million. DeversiFi itself quickly reported the strange incident via Twitter and promised to clear up the matter of the "erroneously" high transaction fee.
From then on, it took about ten hours for DeversiFi to give the all-clear. Again via Twitter, they announced that at least 7,626 ETH would be transferred back from the miner who had briefly gloated about the million transaction fee. This happened in multiple tranches according to blockchain data, the largest of which is documented here. Roughly calculated, however, the miner is still left with around 30 ETH transaction fee and thus around $90,000.
At what point in the original transaction the absurdly high Ethereum transaction fee was committed – presumably in an automated fashion – is still unclear. But from the information so far, it appears that the deal could not have been rolled back to an acceptable level without good will on the part of the miner. "The blockchain is immutable," DeversiFi itself correctly writes, thereby reminding us of the incorruptibility of deals closed there, here in the form of a smart contract.
Bottom line: Ethereum transaction fees – better be on your guard
This is by no means the first time that astronomically high Ethereum (ETH) transaction fees have made headlines. In June 2020, it was the equivalent of about $5 million in transaction fees withheld for transferring $133. Mysterious transactions in ETH also made the rounds in February 2019. For you as an investor, this results in an urgent reminder: when you order transactions, you should also make sure to check the field for fees, where wallets and DeFi services usually have a suggestion entered. Because you can only correct a possible error here in the Ethereum transaction fees yourself before the transfer order.
---
Best place to buy Bitcoin and Ethereum: