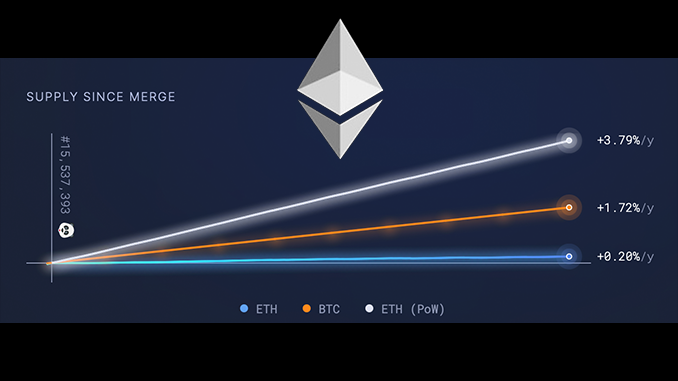 With "The Merge" and the protocol change at Ethereum, mechanisms for generating new coins have also changed. As a result, Ethereum's natural inflation has dropped from 3.8 to 0.2 percent.
In the competition among cryptocurrencies, a strong argument for the number one Bitcoin is always that the total number of all BTC is irrevocably limited to 21 million. In times of Corona and energy price crisis, inflation and monetary policy has become a mainstream topic – Bitcoin shows itself as a transparent and independent alternative to fiat currencies. In contrast, for Ethereum (ETH), the number two cryptocurrency, the concept does not include a maximum number of issued coins. But Ethereum's historic Sept. 15 upgrade, "The Merge," has already produced visible results in terms of natural inflation.
Data from Ultra Sound Money, for example, shows significantly less new ETH coming to market after "The Merge." Before "The Merge", new ETH were distributed to miners, now they are created on a much smaller scale as a reward for staking. In parallel, ETH are destroyed ("burning") when there are gaps between market prices for transaction fees and targeted prices. This mechanism has been in effect since August 2021, when Ethereum rebalanced transaction fees. The London upgrade (EIP 1559) had already temporarily led to deflationary tendencies in ETH at the end of 2022.
After "The Merge", the situation on Ethereum needs to be recalculated. And the first results are clear: While an average of about 12,500 new ETH were generated daily before "The Merge", it is now only a good 770. The ETH destroyed in parallel from the transaction fees must then be deducted from this. The data service thus comes to the conclusion: the natural inflation for Ethereum before "The Merge" was around 3.8 percent annually, is currently at 0.2 percent and could even turn deflationary in the course of the coming months.
Conclusion: "The Merge" with positive effects for Ethereum – but price weakens
In the public perception, "The Merge" at Ethereum was mainly associated with huge savings in energy consumption. The changes in the mechanism for generating new ETH mattered more to insiders. But to evaluate Ethereum in the medium and long term, natural inflation should not be ignored. Meanwhile, the price curve shows that "The Merge" was apparently priced in by investors in advance. ETH was unable to decouple itself from trends on the overall market and has lost more than ten percent since "The Merge".
---