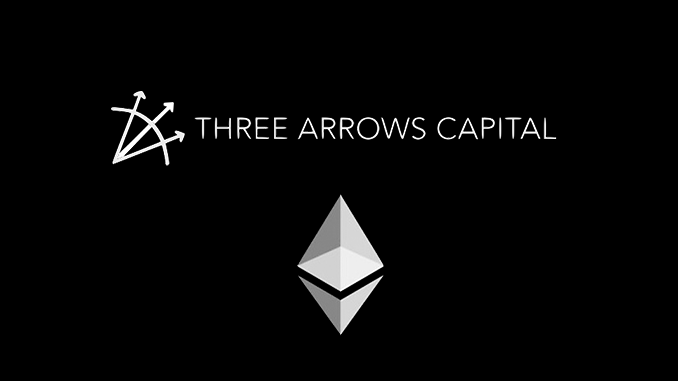 Crypto hedge fund Three Arrows Capital sees Ethereum (ETH) price weakness as an opportunity to add holdings. More than $56 million has been invested – and the crypto scene is amazed.
The price curve of Ethereum (ETH) has fallen since the beginning of the year from a good 3,700 US dollars to currently below 3,000 US dollars and the negative trend has various reasons. On the one hand, the overall crypto market, led by the reserve currency Bitcoin (BTC), has lost considerable ground, and on the other hand, Ethereum founder Vitalik Buterin recently dampened hopes for a quick complete conversion to Ethereum 2.0. However, while private investors are apparently pushing ETH away, the crypto hedge fund Three Arrows Capital understands the situation in the opposite way. Last week, Three Arrows Capital made massive Ethereum purchases, blockchain data shows. A good 20,000 Ethereum for the equivalent of more than $56 million went in several tranches to a Three Arrows Capital wallet – and experts are surprised.
Because as recently as November 2021, the CEO of Three Arrows Capital, Su Zhu, had criticized Ethereum in no uncertain terms and announced that he would support DeFi competitor Avalanche (AVAX) from now on. The main argument he mentions against Ethereum is well known – ETH's still relatively high transaction fees hinder small investors and newcomers. On his widely followed Twitter account, Su Zhu has since preferred to deal with Avalanche (AVAX).
Thus, observers interpret the recent change of course as a rethink at Three Arrows Capital and Su Zhu. There, the mark around 3,000 US dollars per ETH was apparently defined as the target at which a re-entry into Ethereum should be worthwhile. And indeed, Avalanche is indeed making great progress in expanding its ecosystem in the growth division DeFi, where more than 10 billion US dollars are now deposited under AVAX. However, Avalanche is still far from being a so-called Ethereum killer, because DeFi currently has a good 120 billion US dollars under ETH.
Conclusion: Buy the dip when the price weakens – is now the right time?
Back in January, large investors had used price weaknesses in Bitcoin to increase their holdings in BTC. Now the scenario is repeating itself with the number two cryptocurrency Ethereum. So anyone who wants to follow the strategies of professional investors, which are usually designed for the medium and long term, is currently urged not to panic sell Bitcoin and Ethereum, but rather to think about re-buying.
---
Best place to buy Bitcoin and Ethereum: