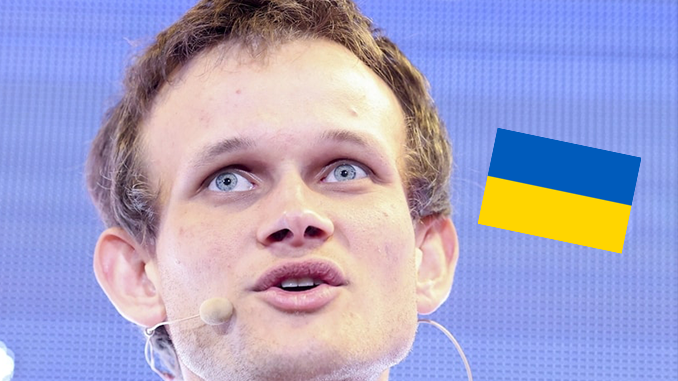 The invasion of Ukraine by Russian troops is not leaving the crypto industry cold. Ethereum founder Vitalik Buterin, himself born near Moscow, speaks of a "crime" and expresses solidarity with Ukraine.
The Western world is shocked: in southeastern Europe, in Ukraine, there is a state of war. Russian troops have launched an invasion with President Vladimir Putin's stated goal of taking control of Ukraine. The dramatic situation also initially caused crypto markets to plummet on Thursday, but the price losses have since been reversed. With Vitalik Buterin as the inventor of Ethereum (ETH), the crypto scene has a star who was born in Russia. On Twitter, Buterin made it clear in Russian that he was furious that Putin was going to war. This, he said, was a "crime against the Ukrainian and Russian people." Using the Ukrainian military salute "Glory to Ukraine," Buterin sides with the attacked.
However, in a second tweet, this time in English, Buterin additionally notes, "Ethereum is neutral, but I'm not." With this, the 28-year-old describes a dichotomy that is probably also felt by other representatives of the crypto industry. On the one hand, a driving force for Bitcoin (BTC) as the mother of all cryptocurrencies was already to counter potentially politically abusable fiat currencies such as the US dollar with an alternative. But the theoretically neutral concept can also be abused in case of doubt. The enthusiasm for Bitcoin in El Salvador, for example, also reflects a disconcerting ignorance of considerable domestic political problems and an authoritarian president, Nayib Bukele.
Buterin had spoken with Putin as recently as 2017 to convince him of Ethereum's merits. But such "diplomatic" missions of crypto thinkers rarely bring tangible results and are quickly suspected of representing business interests. Justin Sun, who founded Tron (TRX) and is now on assignment as a diplomat for Grenada as ambassador to the World Trade Organization (WTO), must also experience this.
Bottom line: can the crypto industry be apolitical?
There have long been so many points of contact between politics and the crypto industry that a neutral stance has only limited credibility. After all, the blockchain is protected from influence in itself – but the people behind the technology remain vulnerable. In the case of Ethereum (ETH), we should remember the case of Virgil Griffith: The ETH programmer passed on technological knowledge to North Korea and is awaiting a prison sentence in the USA for this. Because with Griffith's tips, North Korea was supposed to circumvent sanctions. When Russia introduced crypto laws shortly before its invasion of Ukraine, observers also recognized the move as a strategy by Moscow to pre-empt sanctions against the financial sector. The gap between the vision of being apolitical and the reality is rapidly widening.
---
Best place to buy Bitcoin and Ethereum: