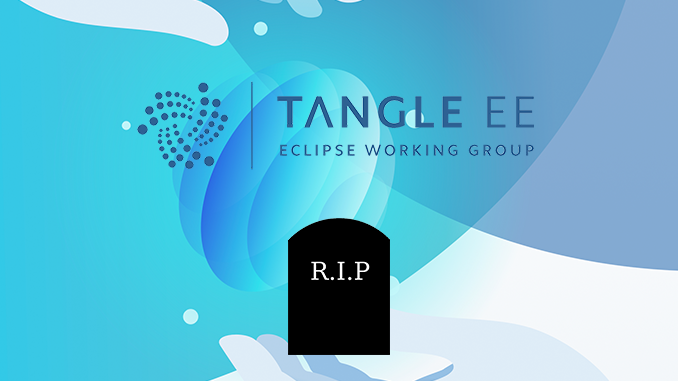 Quietly and secretly the working group Tangle EE, which should serve as a link to the industry, has been dissolved at IOTA. Early hints also from us on a failure of Tangle EE had been sharply rejected by IOTA.
The IOTA Foundation usually handles criticism with little aplomb, as another example shows this week. It is about Tangle EE, a working group founded at the beginning of 2020, from which IOTA had expected impulses for commercialization. For Tangle EE, IOTA made a noticeable effort in the beginning, also building its own web presence. Two years later, on February 22, 2022, an e-mail makes the rounds, in which the end of Tangle EE is succinctly announced. That in itself would be nothing unusual – projects can fail. But here it is the way, which not only makes us shake our heads.
For example, as the well-known IOTA critic Buffy notes via Twitter: "It was actually already apparent at the beginning of 2021 that Tangle EE would fail as a brainchild. When we reported on it at the time, rebuttals poured in. Even IOTA CEO Dominik Schiener wanted to dismiss the critical report with an "LOL" and said that Block Builders and founder Guido Lange were working unseriously. As so often, it was forgotten that we had also written fairly about the launch of Tangle EE. It was later, as unfortunately often, about the fact that at the IOTA Foundation projects start with great fanfare and then percolate in the sand.
And if the IOTA Foundation dedicates a blog article to Tangle EE at the launch and always publicly supports it afterwards – why don't they also have the size to make the end of Tangle EE public? According to Buffy, Schiener now plans to move away from pushing IOTA in transparent working groups like Tangle EE, and instead switch to "private" discussions. It remains to be seen whether he is doing IOTA a favor by doing so.
Conclusion: IOTA Foundation remains narrow-minded
In German-speaking countries and internationally, there are only a few media that continuously report on IOTA with due professional distance. The fact that these are then insulted by parts of the IOTA community with frightening regularity, as we are, seems alarming. After all, it's not about being right or writing bad things, but often about warnings about what's going wrong with IOTA. It would be desirable, especially from the point of view of investors, if the IOTA Foundation would react substantively instead of igniting smoke candles as in the case of Tangle EE.
---
Best place to buy Bitcoin and IOTA: