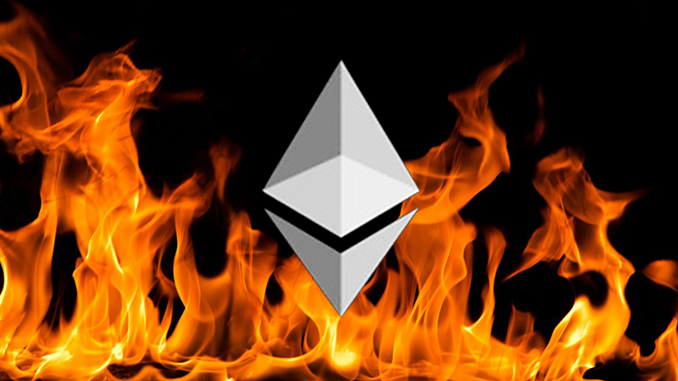 On Ethereum, the August London upgrade (EIP 1559) is delivering partially desired results. The reordering of transaction fees is causing deflation, which is expressed in the burning of more than 1 million ETH.
Ethereum transaction fees are a big issue in crypto year 2021, with often $100 UDS or more per transaction spoiling investors' moods for smaller trades. The London EIP 1559 upgrade for Ethereum from early August was intended to address the problem, and transaction fees for ETH were fundamentally changed technologically. A good three months later, it turns out: EIP 1559 barely managed to lower transaction fees, but the built-in mechanism for deflation is working. Just over 1 million Ethereums worth the equivalent of about $4.2 billion have been burned ("burned") since Aug. 5, representing just under one percent of the total amount of all ETH. Data on this is provided, for example, by the website WatchTheBurn.
The deflationary effect of Upgrade London on Ethereum is, however, less pronounced than at first glance. This is because the proof-of-work protocol still applies to the ETH blockchain, in which mining rewards are distributed as bonuses for those network points that validate transactions. In addition, there are tips that can be added to Ethereum transaction fees for expedited processing. The bottom line is roughly a shortfall of ETH from before the London upgrade to now of about 500,00 Ethereum, about 150,000 per month. The issue of inflation and deflation was once foreseen and considered in the originating code for the crypto market's reserve currency, Bitcoin (BTC).
By capping Bitcoin at a maximum of 21 million BTC and four-yearly Bitcoin halvings, Bitcoin automatically puts a brake on inflation. Miraculous money multiplication as with Western central banks can therefore not happen with Bitcoin and recently also Ethereum. Instead, deflationary effects should ensure value gains for the world's two most important cryptocurrencies in the medium term. Ethereum's price curve shows: In August, when Upgrade EIP 1559 came into effect, ETH was still trading at a good 3,000 US dollars; it is currently around 4,200 US dollars. The argument of deflation through Upgrade London for Ethereum has convinced the market. The "digital gold" Bitcoin has been joined by Ethereum as a silver standard.
Conclusion: Bitcoin, Ethereum and Co. as a bulwark against inflation
Burning, i.e. deliberate deflationary effects, is also known to other important cryptocurrencies such as Binance Coin (BNB). In detail, it always comes down to artificially reducing the total amount of all available coins and/or putting a hard cap on them. Bitcoin plays a special role here with its sophisticated mechanism, since no burning takes place with BTC, but the halving has a similar effect. Important for you as an investor: How tokens are initially distributed in a cryptocurrency and how inflation is fought in the concept has a direct impact on the probable price development. Careful research therefore pays off. In the case of Ethereum, it should be noted: High transaction fees will still cause displeasure in 2022, but inflation is no longer a threat with ETH.
---
Best place to buy Bitcoin and Ethereum: