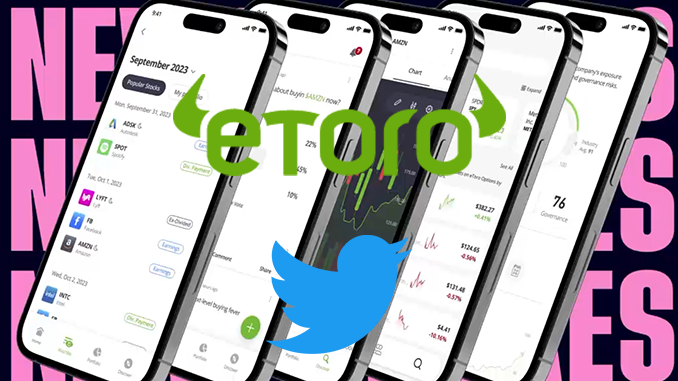 The investment platform eToro and Twitter have agreed on a cooperation. From now on, search terms for investments such as bitcoin or stocks will link directly to eToro, where they can then be traded.
There has already been much speculation about Twitter's plans, led by Elon Musk, to integrate cryptocurrencies more deeply into the short messaging service. Hints from Musk to introduce Dogecoin (DOGE) as a means of payment on Twitter have helped the meme coin jump in price. Now, however, Twitter is moving closer to the crypto markets, initially through a collaboration with investment platform eToro. As eToro announced via press release, from now on search terms for cryptocurrencies, stocks and other asset classes will display a price curve on Twitter and a link to trading on eToro.
Twitter recently calls search terms for asset classes $Cashtags, for Bitcoin, for example, $BTC applies. This year, Twitter has already seen 420 million searches with $Cashtags, according to eToro, and in Q1 2023, 490 million tweets with a $Cashtag were counted. The potential of the new collaboration seems correspondingly large. The eToro CEO Yoni Assia sees Twitter as a one-stop shop for private investors searching for news and sharing information. Twitter assesses the cooperation as a result of growing importance of "#FinTwitter", i.e. the topic area of finance and investment.
It was not disclosed how much eToro will pay for its special position on Twitter. Also possible would be a model that promises commissions when new customers are brought in. In the practical test today, Friday, it became apparent that Twitter is still working on completely linking the cryptocurrencies and other investments offered by eToro with $Cashtags, important values such as Ethereum (ETH) or Dogecoin are still missing. eToro has strengthened its crypto division in recent years and now lists 80 cryptocurrencies. In addition, there are hundreds of stocks, ETFs and dozens of commodities, as well as a wide range of other investments.
Bottom line: eToro becomes Twitter's premium partner, crypto trading included
When Elon Musk acquired Twitter in the fall of 2022, the world's leading crypto exchange Binance also participated with $500 million. So it comes as a surprise that competitor eToro has now been awarded the contract to monetize Twitter through additional functions with $Cashtags. The next few weeks and months will show whether the concept works. Under Elon Musk, Twitter is urgently looking for new sources of revenue on various fronts, which is made clear not least by the deal with eToro.
---