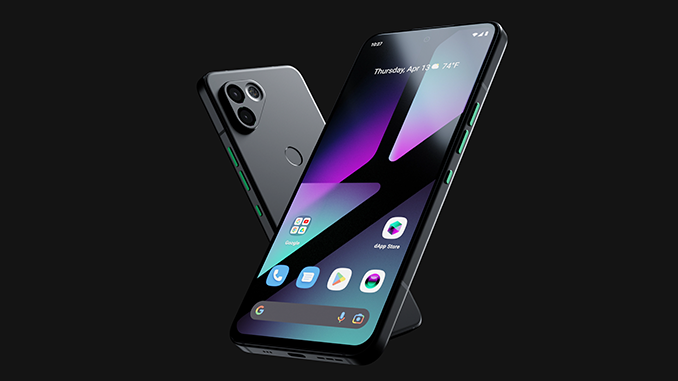 Solana (SOL) launched a mobile initiative last summer and announced its own smartphone called Saga. Deliveries of this smartphone have now begun, and new orders will be possible from May.
When Solana (SOL) announced with great fanfare in June 2022 that it was setting up its own mobile division, it felt like a pioneer. Solana's ecosystem was to be securely and conveniently usable on mobile devices, and those who liked could also pre-order a smartphone optimized for SOL called Saga. Now the first packages with the Saga go into the post office, as Solana announces. According to the company's own advertising, this marks the beginning of "the mobile era of Web3". According to price (starting at 1,000 US dollars) and technological key data, the Solana Saga smartphone belongs to the upper class.
The processor is Snapdragon 8+, the RAM is generous with 12 GB, and 512 GB of RAM leave plenty of room for apps that have nothing to do with crypto. According to Solana, the real highlight is the integrated security architecture, which stores passwords and wallet keys separately on the device and thus minimizes the risk of hacker attacks. Even the Android operating system cannot access the access data, it says. Around a dozen Solana DApps, including the NFT marketplace Magic Eden, are already available in smartphone-optimized versions. Solana plans to resume processing new orders for the Saga starting May 8.
Meanwhile, Solana continues to feel the effects of the FTX crash six months ago. SOL was among FTX founder Sam Bankman-Fried's declared favorites, and when the crypto exchange filed for bankruptcy, Solana's price curve plummeted. Recent blockchain data shows: Solana's number of active wallets dropped by 60 percent in 2023, and the Decentralized Finance (DeFi) division that used to be so important to SOL has shrunk precipitously. The DeFiLlama data service counts just under $300 million in capital invested in DeFi at Solana, down from over $10 billion at the best of times.
Conclusion: Solana is looking for its future
The Solana mobile initiative can basically be tried out without the Saga smartphone, the Solana dApp store can be accessed from all Android devices. Whether new momentum will emanate from here is an open question. After all, even avowed Solana fans have identified recurring network outages as a massive disruptive factor. From its former status as an "Ethereum killer", SOL has come down to earth and it will be a difficult undertaking to spread a sense of optimism at Solana again.
---