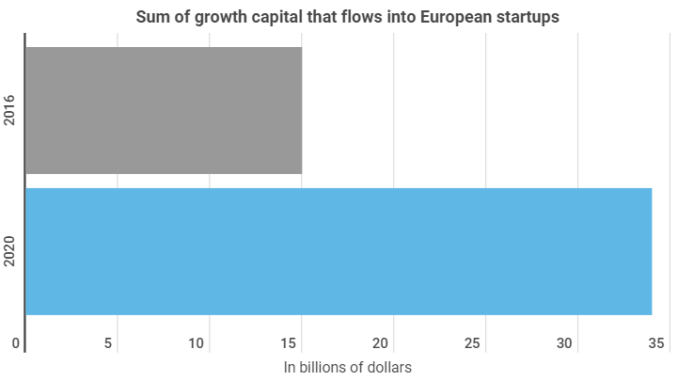 European start-ups received 127% more growth capital this year than in 2016. As a new infographic from Block-Builders.net shows, young entrepreneurs are seeing a growing number of opportunities on the European continent – overall, fewer and fewer see the need to relocate to the US. 
$34 billion has flowed into European start-ups this year, compared to just $15 billion in the whole of 2016. This was revealed by data from "Index Ventures".
Financing rounds are also undergoing a significant change in other respects. This year, 33% of companies entered the US market before their first major financing round. Just a decade ago, however, the figure was significantly higher at 59%. It is especially tech companies based in Europe that are becoming increasingly self-confident. "10 to 15 years ago we had an inferiority complex in Europe. We saw ourselves as good at fundamental research, but not oriented towards the digital world," according to entrepreneur Adrien Nussenbaum.
As the graph shows, conditions in Europe for entrepreneurs are currently attractive. There are currently around 6 million trained software developers, compared to just 4.3 million in the USA. Rent prices also seem to be increasingly affecting start-ups across the Atlantic. In Silicon Valley – where companies like Apple, Tesla & Co. are all based – prices are significantly higher than in most European regions.
Start Ups in Germany and Effects of the Corona Crisis
Fewer start-ups have been born out of necessity in Germany in recent years. The proportion fell from 30% in 2013 to 23% in 2019, although according to the "German Startup Monitor 2020", the pandemic is certainly having an adverse effect on young entrepreneurs. 74.2% of these young businesspeople complain of adverse effects on business activity. Meanwhile 13% see no impact at all, and 12.8% even describe the corona crisis as having a positive impact on their business. As before, there are significantly fewer female founders than male founders, with 84.1% of start-up bosses male.
The following graphic underlines the fact that investments in start-ups can also benefit shareholders. The price of the securities of European companies – namely Adyen, Spotify and Delivery Hero – has recently risen considerably.