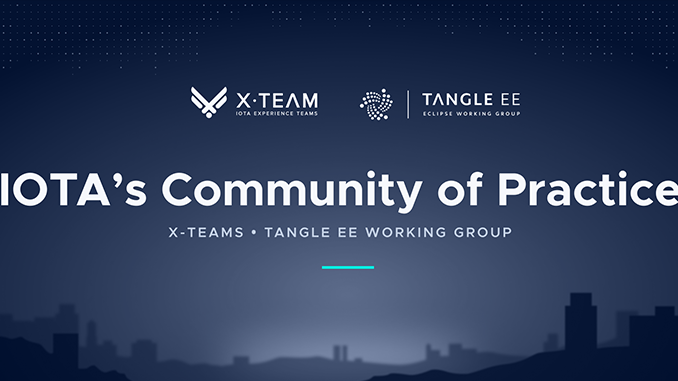 The IOTA Foundation draws an interim conclusion on the cooperation with external developers, companies and institutions. These points are positive due to clear organization. Concrete results, however, remain scarce.
The IOTA Foundation has launched two programs in 2020, which should make the cooperation with external partners and the community more efficient. With the working group Tangle EE a permanent committee was formed in February 2020 to promote IOTA for commercial use cases. The community and external developers were approached by the IOTA Experience Team. Now the IOTA Foundation has summarized the experiences of the two initiatives in a blog post.
IOTA Experience Team to introduce participants to Tangle EE
The IOTA community now has more than 300,000 active members, it is said. They are all theoretically called upon to participate in the IOTA Experience Team. According to the IOTA Foundation, a good 25 participants have already managed to rise to the rank of X-Team members in this forum. For this, positively evaluated contributions are required. New is that the IOTA Foundation promises to link the Tangle EE working group and the Experience Team. Those who qualify as X-Team members will now automatically be invited to participate in Tangle EE. This could create good opportunities for dedicated developers to work directly with the commercially oriented projects.
However, a look at the pages of GitHub, where IOTA Experience Team is organized, reveals that there are a number of different ways to participate: Little or nothing is happening, in most subgroups the last contributions were made months ago. Whether this offer is really accepted remains questionable. With the prospect of funding through Tangle EE, the IOTA Foundation will probably try to make Experience Team more attractive. However, even on the website of Tangle EE there is hardly any evidence of continuous project work.
Conclusion: IOTA and the community – chance or misunderstanding?
On the way to IOTA 2.0 aka Coordicide, many details still need to be clarified and the Foundation had hoped for constructive input and impulses, especially from IOTA Experience Team. However, the interim conclusion raises questions as to whether the program will be accepted at all. Tangle EE, on the other hand, is apparently still in its infancy. Under certain circumstances, IOTA may have to consider whether the involvement of external parties in the current development process is optimal in its current form or whether it needs to be readjusted.
---
Best place to buy Bitcoin and IOTA: