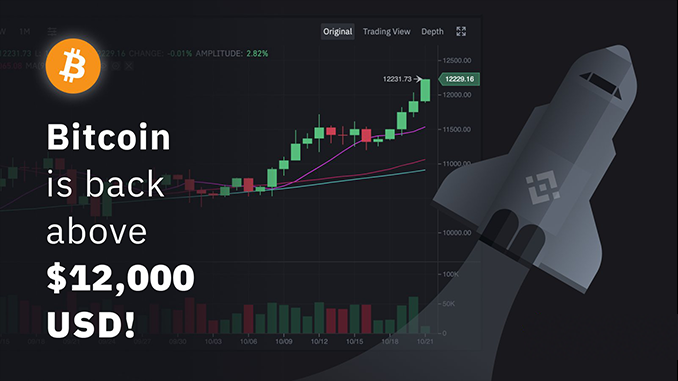 Bitcoin (BTC) is currently quoted at a good USD 12,000 and has thus reached an annual high. Analysis of market data suggests that this could be just the beginning of a bull market. At least the balance of supply and demand at Bitcoin points to further price increases.
Anyone who invests in Bitcoin (BTC) is naturally also interested in price development forecasts. Looking into the crystal ball makes little sense, more logic results from looking at market data on Bitcoin. And in these, Chris Russi, CIO of the crypto-fund Point-Slope Capital, has identified positive characteristics for a bull market. Russi presented his arguments for a possibly also strongly rising price curve for Bitcoin on Twitter:
For almost the entire year 2020, more Bitcoin will be withdrawn than deposited at the major crypto exchanges worldwide. On the one hand, this indicates that investors are increasingly relying on HODL, i.e. they plan to store their BTCs on external wallets, for example as a store of value. On the other hand, it also means that the number of BTCs offered is declining and that the price of Bitcoin is rising if there is corresponding demand.
Russi sees this detail not as a temporary phenomenon, but as a trend that has persisted for months. Accordingly, so-called whales, i.e. market participants with large stocks of BTC, are bringing only small shares of their BTC to the crypto exchanges. This also reduces the likelihood of sudden large sales of Bitcoin that could lower the price.
3 Other observers point out that the US dollar is weakening and therefore interest in alternative forms of investment such as BTC is increasing. Whether in Bitcoin Futures such as from Bakkt or BTC Funds, or in large companies such as Square and MicroStrategy – institutional investors are aggressively shifting towards Bitcoin.
4 Meanwhile, the technological data for the Bitcoin block chain is positive. The sometimes feared reduction of the hashrate after the Bitcoin Halving of May has not materialized – on the contrary: Bitcoin's hashrate continues to reach all-time highs and demonstrates an optimistic market environment.
Result: Golden Christmas with Bitcoin?
As an investor in BTC you probably already got used to the ups and downs in the price curve. If one believes Russi and other optimistic analysts, at present the indications stand on lasting and clear price gains with Bitcoin. Course corrections BTC digested in the last months sovereignly and left slowly but constantly psychological marks such as 10,000 and 11,000 US Dollar behind itself. Beyond the 12,000 US dollar mark, as is currently the case, a break-off towards an all-time high of 20,000 US dollars seems possible. Because it is dawning on more and more investors and companies: Bitcoin is rapidly developing into its own asset class, where fresh capital meets scarce supply – the ideal breeding ground for a bull market.
---
Best place to buy Bitcoin: