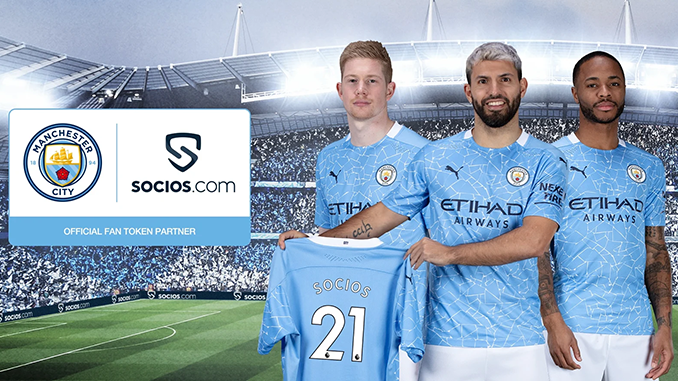 Soccer fans can now express their attachment to Manchester City through the Fan Token $City. The freely tradable altcoin is issued in cooperation with Chiliz (CHZ).
In the English Premier League, Manchester City with coach Pep Guardiola is the undisputed leader of the table and so the club has time to take care of additional marketing. One result: the Manchester City $CITY Fan Token. According to the club, the Fan Token will be launched in cooperation with the platform Socios in these days. At Socios, Chiliz (CHZ) is the native token and Socios has similar partnerships as now with Manchester City already with other top European clubs such as Paris Saint-Germain, AC Milan and FC Barcelona. Arguments and incentives for fan tokens include access to exclusive content, participation in voting and special promotions. CoinMarketCap's database already lists a market capitalization of more than $400 million for European soccer clubs and their fan tokens, with some active trading.
$CITY will initially be issued to registered Manchester City fan club members and is then expected to become tradable on Socios in a second step. The extent to which the soccer club itself will benefit financially from the campaign is a secret. Fan tokens are not yet widespread in the Bundesliga, even though BVB is hinting at such a launch through its partner ByBit.
Cooperation between the crypto industry and professional sports is in vogue
In addition to fan tokens, it is particularly non-fungible tokens (NFTs) that show how professional sports and the crypto industry are coming together. NFTs as unique tokens are suitable, for example, for representing trading cards. For the American basketball league NBA, Top Shots are issued as official NFTs and generate millions in prices and sales. For the Super Bowl in American soccer, top players issued their own NFTs, and in Europe soccer star Christiano Ronaldo caused a sensation with an NFT for $290,000.
One thing is clear from this trend: some sports fans are willing to put significant sums of money into products organized in blockchains for their hobby. Chiliz (CHZ) seems to be establishing itself in soccer as the standard behind the respective fan tokens, and in the field of NFTs, FLOW, for example, should be noted as the basis of NBA Top Shots.
Conclusion: sports and crypto – a growth market?
Whether fan tokens and sports NFTs are the last word remains to be seen. But the projects score points in that fans can participate internationally in their favorite clubs and athletes. Synergy effects should also not be underestimated when sports lovers come into contact with cryptocurrencies for the first time through fan tokens or NFTs. This creates investment opportunities for investors and collectors.
---
Open a Binance Account here and save 10% on fees for a lifetime.