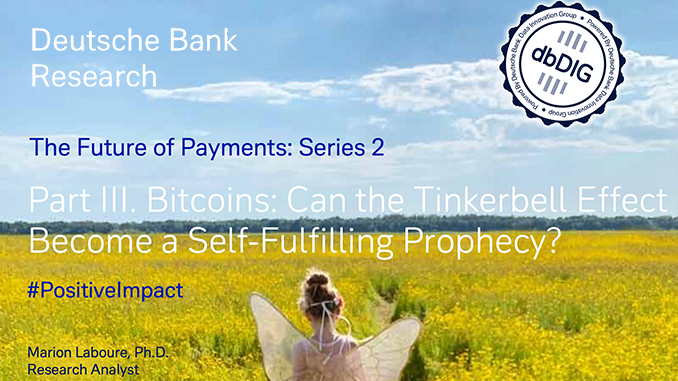 Deutsche Bank has published a study on Bitcoin that gives BTC more attention due to its market capitalization of just over $1 trillion. This makes for some interesting comparisons.
The persistently high price level of Bitcoin (BTC) has lifted the market capitalization of the oldest and most important cryptocurrency to over 1 trillion US dollars. A new study by Deutsche Bank summarizes this as: Bitcoin has become so big that BTC can no longer be ignored. Because according to the analysts, the market capitalization of Bitcoin now exceeds the value of fiat currencies in circulation such as the British pound or Japanese yen. Based on this fact, some original comparisons are drawn:
Bitcoin can be compared to Tesla, says Deutsche Bank. Tesla, too, had to live with the conflict of being seen as either a savior or a dubious company in the public discussion for years. When Tesla then succeeded in mass production and the leap into the profit zone with the Model 3, the company value (depicted in shares) also rose massively and has left traditional carmakers like Ford and General Motors far behind. Applied to Bitcoin: The coming years will have to prove whether BTC can defend its place as the most important cryptocurrency and fill it with life, according to Deutsche Bank.
One sticking point when comparing bitcoin to other asset classes such as equities or gold is BTC's low liquidity, it said. In 2020, for example, Apple shares would have reached 270 percent of the shares in circulation in stock market trading, while Bitcoin would have reached only 150 percent of its current circulating BTC. When compared to gold, the difference is even more pronounced: Accordingly, the daily trading volume of gold reaches $40 billion, and Bitcoin only 1.9 percent of that. In short, Bitcoin's low liquidity leads to high volatility, according to Deutsche Bank.
Less than 30 percent of Bitcoin transactions are for payment transactions, Deutsche Bank estimates. To be sure, the number of places accepting BTC as a means of payment is increasing. But compared to fiat currencies, Bitcoin remains miles away from finding its role as a means of payment, it said.
Deutsche Bank defuses the frequently heard attack that Bitcoin is an energy waster. It is true that the Bitcoin system consumes about as much energy annually as Holland – but one should not ignore the fact that such energy hunger almost inevitably leads to innovations and Bitcoin and Co. could drive the development and use of "green" energies.
In general, Deutsche Bank assumes that the price curve for Bitcoin will continue to rise, without committing to absolute figures. As reasons for the positive trend, the study cites strongly growing demand from institutional investors for Bitcoin and opinion polls. There, 30 to 40 percent of millennials in countries from China to the U.S. see clear potential for cryptocurrencies to replace cash and credit cards.
Will Bitcoin remain a trendsetter?
Deutsche Bank is planning a platform that will offer trading in bitcoin and altcoins and related services. But for all the optimism, the study sounds that Bitcoin has yet to find its more clearly defined role between cornerstones such as store of value, means of payment, asset class and technological pioneer. Deutsche Bank thus remains skeptical as to whether Bitcoin will take the next developmental step, as Tesla, for example, has arguably succeeded in doing. The study also cites regulatory intervention by central banks as well as state-backed digital currencies ("e-euro") as potential challenges for Bitcoin.
Bottom line: exciting future ahead for Bitcoin
Amid all the analysis hyping Bitcoin and outdoing each other in predicting new all-time highs, Deutsche Bank's paper is pleasantly sober. It acknowledges the importance of Bitcoin by now without further discussion, but asks pointed and fact-based sensitive questions about the hermaphroditic nature of Bitcoin, whose future role still seems undecided. Bitcoin as a "self-fulfilling prophecy" – Deutsche Bank questions this smartly.
---
Best place to buy Bitcoin: