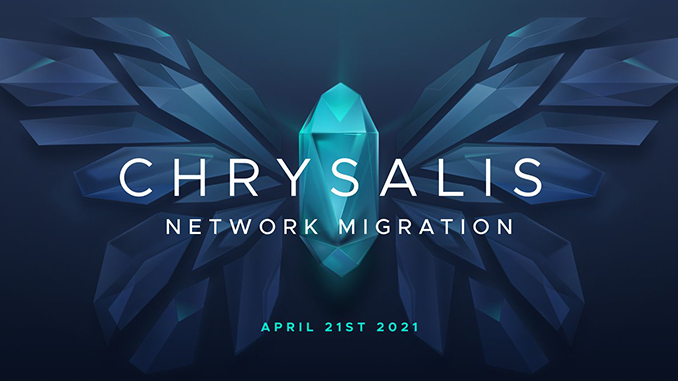 The wait for Chrysalis and thus IOTA 1.5 is to come to an end on April 28. The upgrade will introduce a new Tanglenet, which will be faster than before and will prepare for IOTA 2.0.
April 28 marks the beginning of a new phase for IOTA: That's because on this last Wednesday in April 2021, Chrysalis Phase 2 is scheduled to go live on Tanglenet, ushering in IOTA 1.5. In a blog post, the IOTA Foundation speaks of the "biggest upgrade in the history of IOTA." Phase 1 of Chrysalis had already been released in August 2020, but completion through Phase 2 had been delayed several times. IOTA 1.5 significantly increases the number of transactions per second (TPS) on Tanglenet towards 1,000 TPS with confirmation times of less than 10 seconds and lays technological foundations for a decentralized IOTA 2.0. However, the price of IOTA did not react noticeably to the progress announcement and remains stuck at around $1.35.
What you need to know about IOTA 1.5
With the completion of Chrysalis, the old official IOTA wallet Trinity becomes a thing of the past. Those holding IOTA will have to transfer them to new addresses if they want to trade or pay with them. The future official wallet Firefly should be made available in a beta version on the testnet in the coming week and be ready for use under real conditions by April 21 at the latest. Because then the so-called migration process begins at IOTA, in which Firefly automatically transfers the tokens from old addresses in the Tanglenet to the new network with new addresses. Promised in this process is high usability, detailed instructions are to be published before April 21.
The IOTA Foundation states that Chrysalis has been checked for possible bugs by three external companies and is now almost finished. The reason for the delay in the schedule is highlighted as crypto exchanges needing time to prepare for IOTA 1.5. They have learned from this and will plan more time for future updates accordingly.
The IOTA Foundation issues an explicit warning: The implementation of Chrysalis along with the migration process for tokens could become a target for hackers and scammers. When downloading the Firefly wallet, it is therefore essential to ensure that it is only downloaded from the website for Chrysalis here or from the online presence of IOTA here.
Conclusion: Big step forward with IOTA 1.5
If the transition to IOTA 1.5 goes smoothly, we can rejoice. Because, from a technological point of view, a big step forward is indeed happening in Tanglenet with Chrysalis. The former protocol has been thoroughly cleaned up and is now based on industry standards in IOTA 1.5. This makes it easier to link to other ecosystems, for example. But it should not be forgotten that important functionalities such as smart contracts will presumably only come with IOTA 2.0 aka Coordicide. So far, the target date has been communicated as the end of 2021, and a first test net called Pollen is already running.
---
Best place to buy Bitcoin and IOTA: