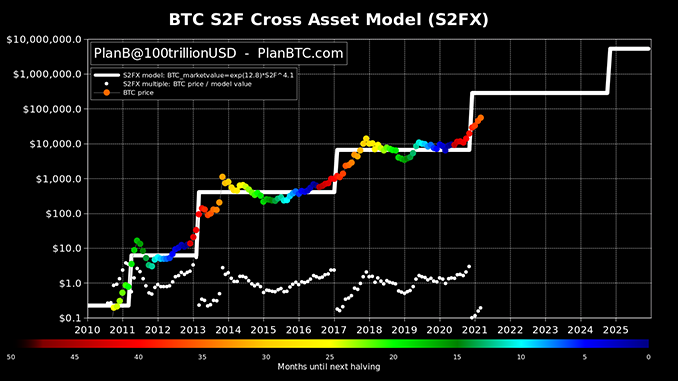 Bitcoin (BTC) is leading an impressive rally so far in 2021 and has marked several new all-time highs. However, analysts continue to see great room to the upside for Bitcoin based on stock-to-flow.
At nearly $62,000, the current all-time high for Bitcoin (BTC) is at its highest level, and it was reached last weekend. This means that the price of Bitcoin has roughly doubled since the beginning of the year and, contrary to all prophecies of doom, has coped well with temporary price corrections. In this bullish atmosphere, the stock-to-flow model for forecasting the price of BTC is also regaining popularity. PlanB, for example, is someone who has been promoting stock-to-flow for bitcoin for years. In a recent tweet, he points out that BTC has only been on the upswing in price for a little over three months and the trend should continue. By the end of the year, Plan B therefore expects Bitcoin to reach a price level of at least US$100,000 and more likely even average values of US$288,000.
Rekkt Capital's calculations for Bitcoin's price curve also show no cooling off by any means, also based on stock-to-flow. In this method, Bitcoin is classified as a rare commodity like gold, for example, and price increases predictably result from the time periods it takes to mine new Bitcoin. These have lengthened significantly as a result of the May 2020 Bitcoin halving, which conversely suggests higher prices for BTC. Rekkt Capital forecasts Bitcoin to average around $100,000 by the next halving in 2024.
Still getting in on Bitcoin now?
The stock-to-flow model is supported by historical experience with Bitcoin's price curve, which rarely deviated from the statistics for extended periods of time. Currently, the charts show a close synchronization with the model and therefore allow for continued optimism. Incidentally, Bayerische Landesbank, for example, also relies on stock-to-flow for its Bitcoin price forecast and arrives at $90,000 as the target value before the next halving.
However, positive impulses for Bitcoin are also foreseeable from outside. In the U.S., the disbursement of new Corona aid to citizens begins, some of which is likely to flow into BTC. Also in the U.S., the leading crypto exchange Coinbase itself is moving to the stock market and a record valuation is looming in the run-up. In addition, more and more institutional investors are shifting parts of their reserves and savings plans into Bitcoin.
Conclusion: The Bitcoin Phenomenon
Bitcoin has passed its test as a store of value in the Corona pandemic and is recognized in many places as "digital gold." Stock-to-flow has its origins as a tool for predicting gold prices, and there is much to suggest that stock-to-flow is also applicable to Bitcoin. Thus, six-digit dollar prices per BTC no longer appear to be an illusion, but rather quite realistic in the medium term. However, one should not disregard risks such as persistent economic weaknesses in the global economy, from which Bitcoin can only decouple itself to a limited extent. For the moment, however, the optimists obviously have the upper hand when it comes to BTC.
---
Best place to buy Bitcoin: