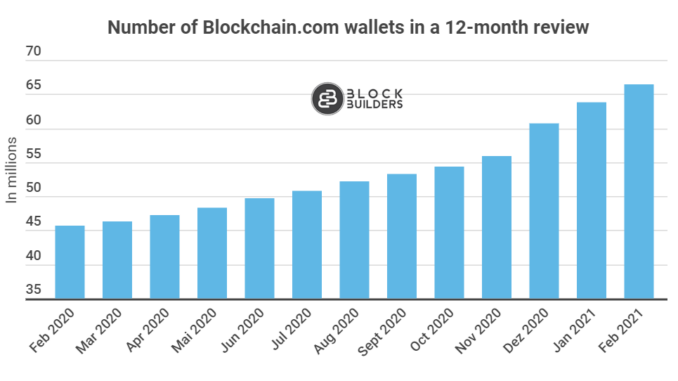 On 22 October, PayPal announced that they would soon be offering crypto services. As shown in a new "Block-Builders" infographic, the number of distinct blockchain wallets created has since increased rapidly by around 20%. Tesla's announcement on Monday is also sending the crypto market into a frenzy. Not only are prices for Bitcoin & other cryptocurrencies breaking new highs, the expansion of the infrastructure is also progressing at a rapid pace.
While most people simply follow the price performance, considerable progress has been made in other respects as well. There are now 14,906 Bitcoin ATMs around the globe, compared to just 4,286 in the same month of 2019, an increase of 247%.
Furthermore, the number of establishments (restaurants, cafés, …) allowing customers to pay via cryptocurrency is also on the rise. As the infographic shows, there are large regional differences in this respect, with Europe, parts of the USA and parts of Latin America all hotspots for cryptocurrency payments.
Tech Giants Fuel Upswing
As shown, PayPal's announcement last October led to a surge in the number of wallets and a rally in the price. On Monday afternoon, e-pioneer Tesla announced that it had invested 1.5 billion dollars in Bitcoin at the beginning of the year. The price leapt to a new all-time high within minutes.
The medium- to long-term consequences of this could be even more significant. These US tech companies have the potential to make crypto-transactions widely accepted. While PayPal intends to serve as a service provider in the future, Tesla has hinted at possibly accepting car payments in Bitcoin. This may be a crucial milestone.
The reason: 63.1% of crypto investors see the (low) acceptance of cryptocurrencies as the central challenge for the crypto market in 2021. In addition to this factor, trust and real-life applications are also critical elements, according to assessments by investors. All of the above could be offset by the uptake of cryptocurrencies by major tech companies.
Pay With Bitcoin
As the study reveals, there are already many ways to buy real goods using cryptocurrencies – for example, Bayram Tekc, CEO of a real estate company, reported that more than 50 real estate purchases had been made using cryptocurrencies in the last two months alone. Yet this could be just the beginning: the moves by PayPal and Tesla suggest that the big transformation is yet to come.