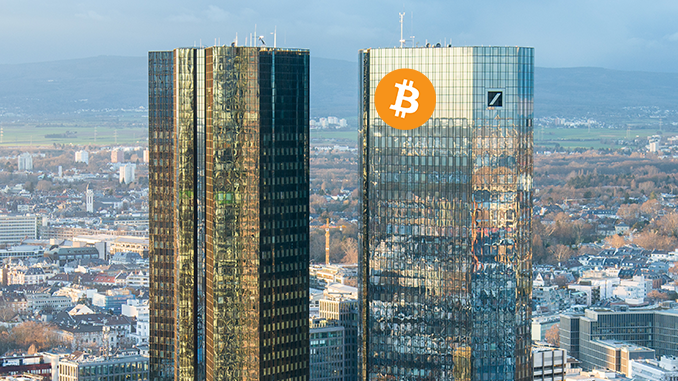 Deutsche Bank also apparently wants to set up a department for cryptocurrencies. This is evident from a contribution to the World Economic Forum Davos. Deutsche Bank customers are to be served before the end of 2021.
There is a growing number of large and traditional financial institutions that are no longer closed to customer demand for Bitcoin and other cryptocurrencies. Deutsche Bank, for example, has begun preparations to offer services for digital asset classes before the end of 2021. Deutsche Bank describes its plans in a brief project overview, published somewhat hidden in a major market report on the crypto industry here (page 23). Most recently in the U.S., for example, BNY Mellon, the oldest bank there, and Mastercard, the credit card giant, had announced plans to enter crypto businesses in 2021.
What is Deutsche Bank up to when it comes to crypto?
Deutsche Bank cites its already heavily capitalized cryptocurrency trading and growth market with tokenized investment opportunities as motivation for expanding its offerings. Initially, the bank said it wants to make it possible for institutional clients to buy and safely store cryptocurrencies. Where possible, these options are to be integrated into the bank's existing proprietary wealth management platforms. In a further step, Deutsche Bank also wants to offer additional services for crypto, from tax issues to staking to lending transactions – basically bundling all important topics for investors.
A concept for the new crypto division at Deutsche Bank has already been completed and tested internally, according to the report. Once approvals from regulators are available, the intention is to launch on a small scale and explore potential client interest internationally in parallel. In principle, the initiatives are designed for the German bank's global market and are intended to produce profits through fees.
In the past, Deutsche Bank has been open to the crypto industry, but has not been noticeably active itself. However, the introduction of an e-euro has already been classified as "without alternative" by Germany's largest bank, and Bitcoin is also already recognized by internal experts as the store of value of the future. The German crypto scene reacted electrified when it was announced from Deutsche Bank to deal with IOTA there.
Conclusion: next banking giant approaches Bitcoin for customers
Deutsche Bank will not be the last major bank to record 2021 as an entrant into the crypto market in its history. Even conservative financial institutions are inundated with demand from (institutional) customers for suitable financial products – and services and can no longer ignore the trend. This opening towards Bitcoin and tokenization opens up new sources of money and should sooner or later also have a significant impact on the price curve of Bitcoin as the leading currency of the crypto industry.
---
Best place to buy Bitcoin: