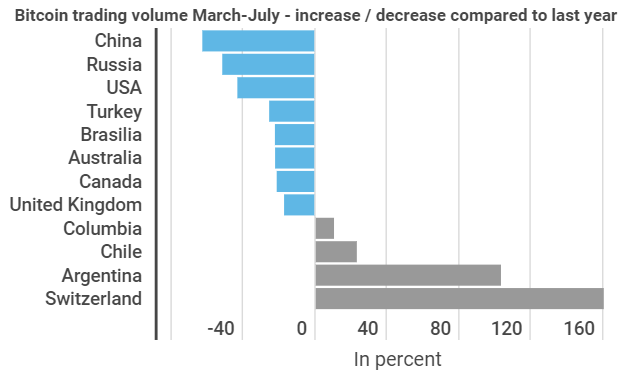 Bitcoin trading volume has declined globally compared to last year, although strong growth has been recorded in certain countries. In Latin America in particular, BTC is becoming increasingly important, living up to its reputation as a crisis currency.
From early March to July, £337,300,758 worth of bitcoin was traded via the platform "LocalBitcoins". Compared with the same period of the previous year, the total volume has decreased by around 37%. However, it is certain Latin American countries that are bucking the global trend, as a new "Inveez" study showed. Data from "Blockchain.com" also shows that traded volumes were at times significantly lower this year, especially at the end of July.
As illustrated by this infographic from Block-Builders.de, the decline has been particularly sharp in China (62.3%), Russia (51.2%) and the USA (42.8%).
Crisis Currency Bitcoin
In Argentina particularly BTC trading volume has increased considerably, with 103% more traded than over the same period last year. The country faces a particularly precarious situation, suggesting that citizens are trying to use Bitcoin to safely preserve their assets through the crisis. The rate of inflation there has recently risen by 53.55% year-on-year. As a comparison: in Germany inflation rose by only 1.4%. According to a contribution by the Konrad Adenauer Foundation, the change of power in 2019 has led investor confidence to plummet. Bitcoin's decentralized concept appears to be delivering its promise here.
Bitcoin Forecasts in the Light of the Pandemic
Meanwhile a glance at the price development shows that Bitcoin has been one of the big winners in the 6-month review. In this period the price of the cryptocurrency with the largest market capitalization has risen by 22.7%. The incumbent crisis asset par excellence, gold, gained just 10.7% within the last half year.
Stocks have faced a very different fate, with the Dow Jones and DAX losing 4.8% and 5.6% respectively.
According to the survey, trading volumes have decreased. However, this could simply indicate that investors are increasingly holding on to their already purchased coins. The cryptocurrency has developed positively in these challenging times – a possible second wave of coronavirus could accelerate the trend even further, if the pattern repeats itself.