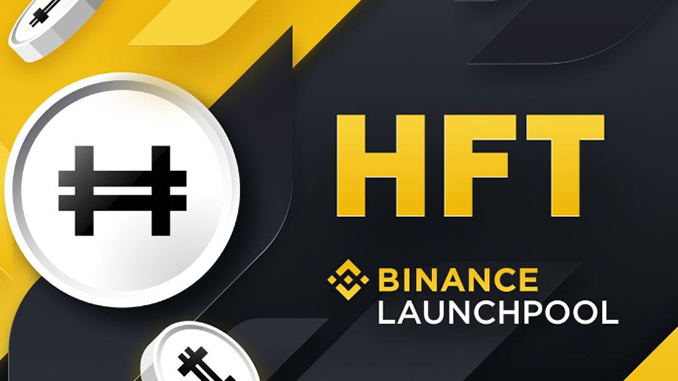 Binance Launchpool currently allows you to stake Binance Coin (BNB) and/or BUSD, for which Hashflow (HFT) will be distributed in return until the end of the month. We explain how you can participate here.
The world's largest crypto exchange Binance is making a push for the new DeFi Token Hashflow (HFT). From November 7, Hashflow will be listed and at the same time there is still the possibility to get HFT for free via Binance Launchpool until November 30. Now for the 31st time, Binance Launchpool supports promising crypto projects to get started. The principle is simply explained: anyone who currently deposits Binance Coin (BNB) and/or the stablecoin BUSD there for staking will be rewarded with hashflow until the end of the month at no additional cost.
According to the communication to customers and interested parties, Launchpool has 15 million HFT available for the promotion, which is 1.5 percent of all Hashflow's tokens. 12 million Hasflow will be distributed through the staking pool for Binance Coin and 3 million HFT will go to the staking pool for BUSD.
To participate in the promotion, you need to register your BNB or Binance USD in the launch pool accordingly. After that, HFT will be credited hourly, individually calculated based on the shares in the respective pool. So you will already hold HFT when Hashflow debuts on November 7th if you join Binance Launchpool now. You can withdraw the BNB or BUSD you have contributed to HFT at any time, but then you will of course no longer receive Hashflow.
Background to Hashflow (HFT)
Behind Hashflow is a decentralized crypto exchange that calls itself the "future of trading". HFT is designed as a governance token and will allow people to have a say in strategic decisions on Hashflow. Here, Hashflow aims to establish an innovative process with gamification. HFT holders will be encouraged to participate in self-determination of Hashflow through gamified elements and environment.
The decentralized platform Hashflow is already live and reported $10 billion in revenue by the end of October. DEX is tied to six ecosystems, specifically Ethereum (ETH), BNB Chain, Polygon, Avalanche (AVAX), Arbitrum, and Optimism. Hashflow allows decentralized trading of tokens from one ecosystem as well as trades organized across ecosystems with bridges. Low fees and great diversity are arguments in favor of Hasflow.
In Hashflow's development phase, 25 percent of all HFTs were sold in three private funding rounds for a combined $28.2 million, at prices as low as $0.40 per HFT. The token distribution at Hashflow is fair, the team behind the project has reserved a comparatively small piece of the pie with 19 percent of all HFT.
Conclusion: Secure Hashflow at Binance Launchpool
We can recommend Binance Launchpool as well as the related Launchpad, we have listed the differences between the two programs for you here. According to available information, Hashflow has the potential to be represented among the top ten decentralized crypto exchanges in terms of revenue in the future and, of course, wants to catch up with competitors such as Uniswap in the medium term. It remains exciting to see how HFT will perform at the exchange launch on Sunday – but you should not miss the option to secure Hashflow at Binance Launchpool at no extra cost.
---
Open a Binance Account here and save 10% on fees for a lifetime.