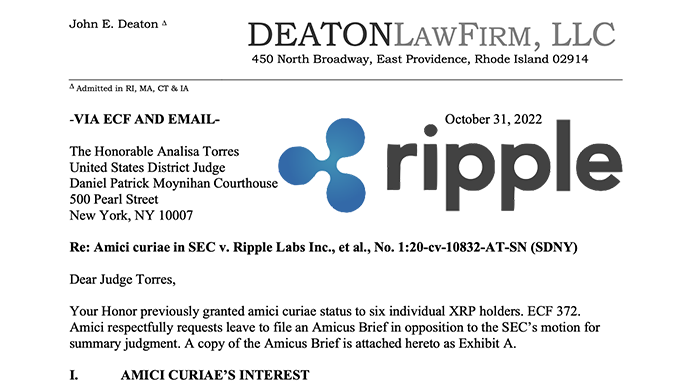 In the process of the US Securities and Exchange Commission SEC against Ripple, it is currently small steps that support hopes for XRP. Private XRP investors, represented as "amicus curiae" in court, deny the SEC expertise.
The U.S. Securities and Exchange Commission (SEC) is finding it increasingly difficult to score plus points in the court case against Ripple (XRP). Latest example: In a letter to the court in New York, private XRP investors, through their lawyer John Deaton, doubt that the SEC correctly understands the principle of Ripple's cryptocurrency and accuse the agency of causing harm through its actions. In this context, the SEC is designed as a governmental institution for investor protection and therefore feels obliged to intervene against Ripple and XRP.
XRP investors have been admitted as "amicus curiae" in the SEC vs. Ripple court battle, which has been going on for 22 months now. This status is provided by U.S. law in lawsuits where third party interests are affected and overlapping effects could arise. Ripple has been receiving support from various "amicus curiae" in recent months. But the private investor group stands out, because it is precisely one of those that would be expected to side with the SEC.
But as trial observer and attorney Jeremy Hogan elaborates on Twitter: XRP investors are citing at least $15 billion in losses as a result of the SEC's action, such as listing XRP on North American crypto exchanges and associated price losses. The SEC acts "unfairly" and, for example, did not even understand that XRP is definitely used as a means of payment. Going further, the XRP investors do not at all agree with the SEC's thesis that XRP involves an investment in Ripple and that the Altcoin is therefore subject to approval as a "security". They understand XRP as comparable to Bitcoin (BTC) and Ethereum (ETH), where the SEC waived regulation on its own.
Bottom line: SEC isolated in lawsuit against Ripple (XRP).
The SEC's lawyers may be starting to realize that they are alone in their fight against Ripple and XRP. The U.S. Blockchain Association, commercial XRP users and now private investors have sided with Ripple as "amicus curiae," and other parties, including U.S. crypto exchange Coinbase, are also still looking to have their say. Even if "amicus curiae" only have a supplementary function in the proceedings – the absence of any supporters of the SEC position should give the authority food for thought. A court decision is expected for the first half of 2023 and there are increasing estimates that the SEC has become bogged down in the matter of XRP.
---