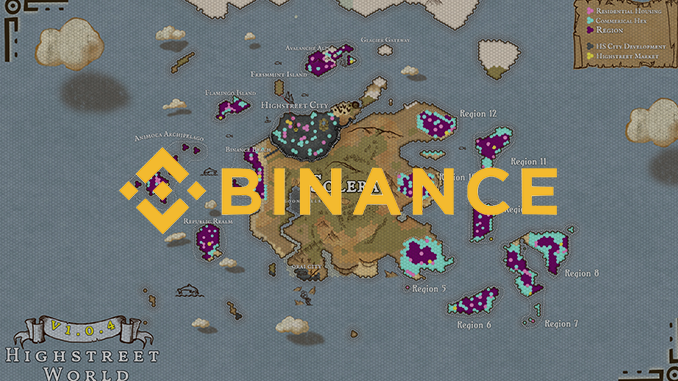 At Binance Launchpool you can currently get the Metaverse token Highstreet (HIGH) by farming. Deposits in Binance Coin (BNB) and BUSD are rewarded. Read all important information here.
Metaverse tokens are fully in trend at the end of the crypto year 2021, projects such as The Sandbox (SAND) or Decentraland (MANA) made themselves talked about by significant price gains. Now, the world's largest crypto exchange Binance has launched an exciting offering in this environment: For farming Binance Coin (BNB) and/or BUSD, Highstreet (HIGH) will be distributed as a bonus until January 16, 2022. Highstreet is a Metaverse blockchain game that uses HIGH as its native currency and governance token.
Highstreet (HIGH) at Binance Launchpool – this is how you participate
For farming at Binance Launchpool you need a customer account and either BNB or Binance USD. You register these with Launchpool for Highstreet. From that moment on, hourly snapshots will determine how many of your tokens are qualified for HIGH farming. On this basis, it is also calculated hourly which share from the farming pools for Highstreet you are individually entitled to and distributed accordingly.
For Binance Coin at Launchpool, 26,666 HIGH will be distributed daily until January 16, 2022. Additionally, 6.9 percent annual interest is targeted for deposited BNB. For Highstreet Launchpool based on BUSD, 6,666 HIGH are available daily as a bonus and for Binance USD, 4.35 percent annual interest is expected in parallel. In total, one percent of all HIGH will be put into circulation during the promotion. Farming Highstreet comes with no incidental fees and is similar to an airdrop.
Background on Highstreet (HIGH)
Highstreet is in development, players can try out very limited features so far. The actual launch of Highstreet is planned for the first half of 2022 and then it will be possible to buy virtual properties there for HIGH, for example. Like other Metaverse projects, Highstreet aims to represent as many aspects of real life as possible, from games to shopping to social events. Technologically, Highstreet is based on the Binance Smart Chain and is thus well equipped for large numbers of participants. HIGH has been traded on crypto exchanges since the end of October 2021 and, overall, has had a positive price curve since then. In addition to Binance, Highstreet's supporters from the crypto industry include Polkadot (DOT) and Avalanche (AVAX), which want to advertise their ecosystems there.
Conclusion: HIGH at Binance Launchpool – don't miss it
Binance has successfully established two methods to support new tokens with Launchpool and Launchpad. While at Binance Launchpad you have the chance to strike at the first public sale, Binance Launchpool relies on the principle of free bonuses. Highstreet (HIGH) is aimed at an adult audience and takes the Metaverse idea. This results in realistic chances of winning, for which you do not have to take risks. So if you already own BNB and/or BUSD, you should secure HIGH at Binance Launchpool now.
---
Open a Binance Account here and save 10% on fees for a lifetime.