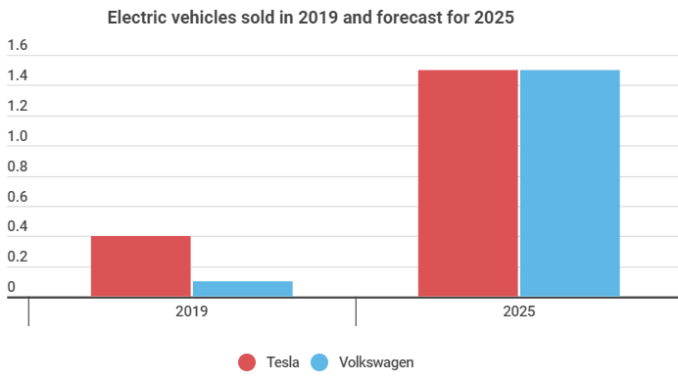 In the past year, 46,211 all-electric vehicles made by Volkswagen were officially registered in Germany, compared to just 16,698 Teslas. The Wolfsburg company's commitment to electromobility is also making itself felt internationally, and the manufacturer could soon topple Tesla from its throne. Yet Tesla's stock market value has been rising dramatically lately. This can be seen in a new infographic from "Block-Builders.de". 
Volkswagen is clearly in first place in terms of new pure electric vehicles taking to the roads in Germany, followed by Renault and then Tesla. A look at the relative gains is even more interesting. Last year, 463% more Volkswagen electric vehicles were registered in Germany than in 2019, while the increase in new Tesla registrations was just 56%.
A comparison across all drive types clearly reveals that Tesla is nowhere near the size of Volkswagen. Last year, the DAX-listed company put 5.32 million Volkswagen cars on the roads worldwide, compared to Tesla's mere 500,000. Nonetheless, Tesla is now worth €600.47 billion on the stock market, whilst Volkswagen is only worth €83.9 billion.
Tesla and Volkswagen Forecasts Show Clear Direction of Travel
The stock market trades in the present rather than the future. Here Volkswagen shows signs of pulling ahead, with significantly higher relative rises.
Tesla remains the world's number one in terms of sales of all-electric vehicles, but that could soon be a thing of the past. According to forecasts by McKinsey, Volkswagen may catch up with Tesla's sales of electric vehicles as soon as 2025. The market researchers expect the global market share of German car manufacturers in the e-market to rise from 18% today to 29% by 2024. BMW, Daimler & Co. are also putting the pedal to the metal in the field of electromobility.
Tesla shares gained around 605% in value last year, while Volkswagen gained less than 11%. When viewed in this light, the scale of Tesla's valuation appears questionable.